It's nearly that time of the year, a time when fun activities slowly start to shift more and more from outside-all-of-the-time, to indoor adventure time. There's still lots of great things to do outside in the Fall, but when the play is taken indoors what better way to do it than with slime?
Slime! It's the trend sweeping the nation. Kids are obsessed with it, adults love it! It's an all-around neat thing to both make and play with. Slime is also a great way for children to explore and learn (science, chemistry, math) via sensory play due to its malleable nature. The different types of slime you can make are nearly endless!
So, are you looking for an inspiring Fall activity to bring inside? Why not try one of these simple slime ideas with your little.
But First, The Basics
If you're new to slime, then you may want a simple slime recipe or list of ingredients to get you started. To make your basic slime recipe, you're going to need.
½ cup of a

ctivator (such as liquid starch or contact lens solution)
½ cup clear or white Elmers Washable School Glue (other brands of glue don't seem to work as well)
½ cup water
First you will want to combine the water and glue, and stir until fully combined; then add the liquid activator! Keep stirring your mixture until you get the consistency you're looking for in your slime.
Looking for a quick and easy solution to making your own slime? Scholar's Choice has many kits for that!
Nickelodeon Slime Deluxe Set by Cra-Z-Art
Now you're ready to start becoming a slime making master!
Fall Inspired Slime
Pumpkin Slime: Looking for an interesting way to contain your slime play? Make your slime in a pumpkin. It's fun, smells great, it's a neat texture and a clear way to play with this project.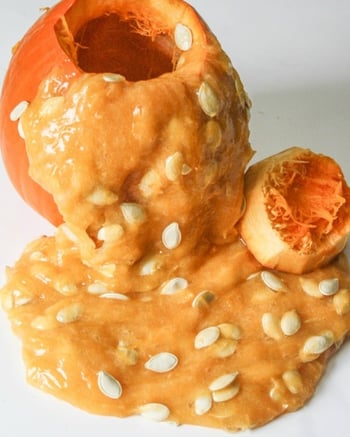 via, Little Bins for Little Hands
Cinnamon Slime: Spice up your slime with this cinnamon scented slime idea. Add a ½ tsp of baking soda and cinnamon to your slime mixture and enjoy!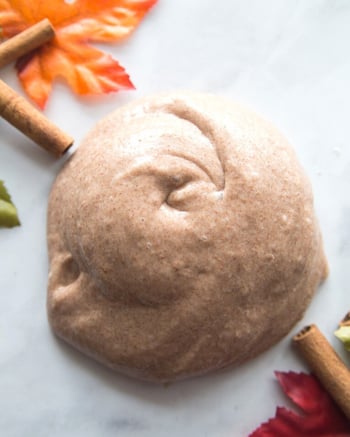 via, Little Bins for Little Hands
Glow in the dark: Swap out regular glue for glow in the dark glue for this radio active looking slime! Adding a few googly eyes to this mixture will make for the perfect spooky slime.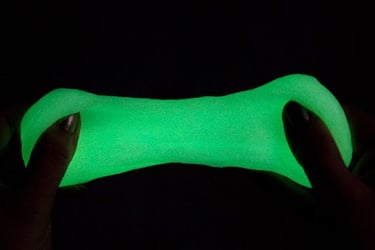 via, The Best Ideas For Kids
Please note: This slime uses a slightly modified recipe. Find our favourite glow in the dark slime recipe at The Best Ideas For Kids.

Adding Glitz and Glam: Looking for something a little more simple? Simply add some Fall inspired glitter and beads to your slime.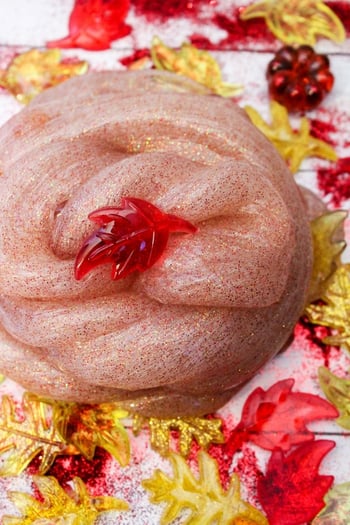 via, Crayons and Cravings
Or, keep it creepy by adding fake spiders or googly eyes to the mixture.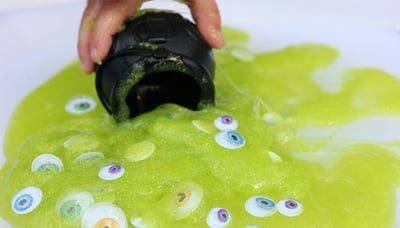 via, New Horizon Academy
Bonus Slime: Looking for something to do with all that leftover Halloween candy? Why not make some edible slime?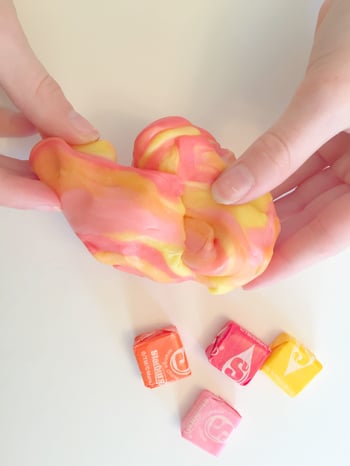 via, Teach Beside Me
Instead of chemical-based ingredients, you're going to want:
1/4 cup cornstarch
1/4 cup powder sugar
1 cup of soft-taffy style candies, unwrapped (works best with Starburst)
You'll need to warm up your candies so that they're soft, but not melted. Then mix in your cornstarch and powdered sugar until you have a consistency you're happy with! Be careful when first handling the candies, they could be a little warm.
Storing Your Slime
Slime can last for a long time, if it's stored correctly. Jazz up the way you store your slime with some Halloween and Fall inspired jars!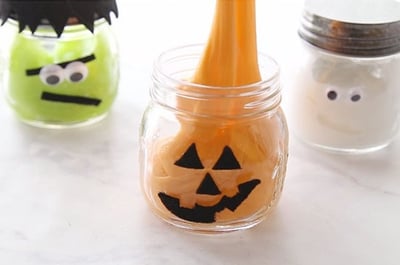 via, The Best Ideas For Kids
As you can see, adding a few paper details, googly eyes, or fake leaves to a glass jar is a great way to store your slime.
Does your little have a favourite slime recipe or slime additive? We'd love to hear about it! Share it with us in the comments section below.