Children Ages Birth to 18 months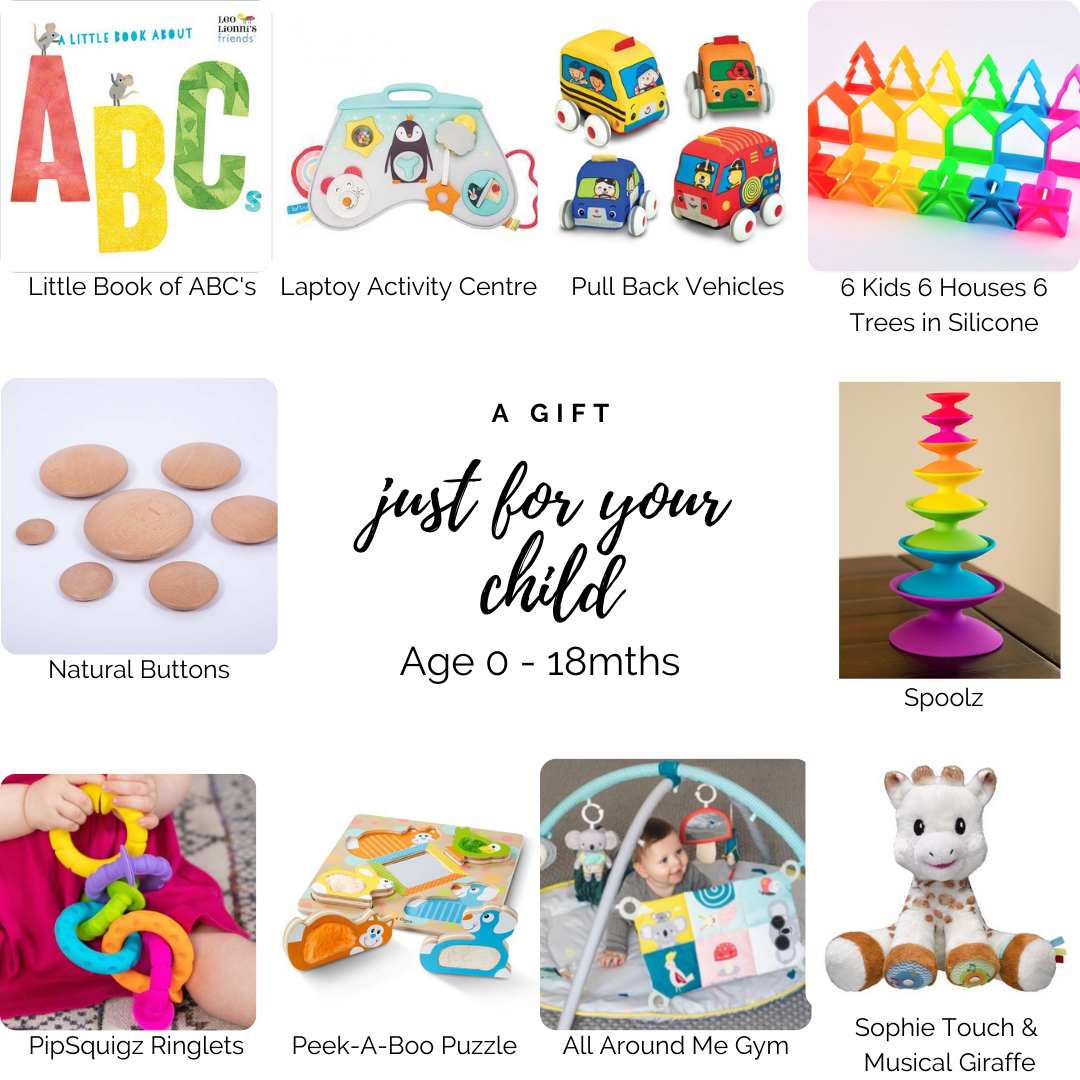 This is one of my favourite toys we have ever picked up! The Dena Toys are so unique and can be used in so many ways and will grow with your baby. This set is fun, safe and facilitates free play and creativity as well as helps develop motor, cognitive, sensory, and social and emotional skills! Fun fact, since they are made of platinum based silicone you can even put the pieces in the dishwasher for easy washing!
How these toys grow with your child:
1 Year Old: They will play with high quality and BOA-free safe toys
2 Years Old: They will be able to create, squish and manipulate the toys
3 Years Old: They will learn to classify by colour and shape
4 Years Old: They will improve their manual dexterity and also the concentration abilities
5 Years Old: They will practice symbolic play and will also increase their creativity
6 Years Old: They will enjoy cooking with family as these toys are suitable for ovens and dishwashers
The pack contains eighteen pieces: 6 dëna KID pieces, 6 dëna HOUSE pieces and 6 dëna Tree pieces made of 100% platinum-based silicone.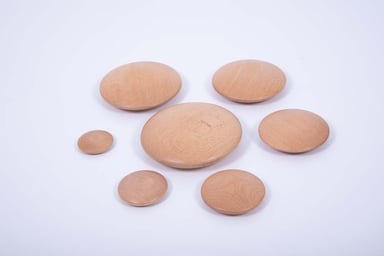 The natural buttons are a perfect first pebble set for young children. Made of beautiful smooth natural wood, the buttons gradually get larger in size and have slightly flattened surface for balancing and stacking! They are a wonderful open-ended resource that can be used by the youngest of children to improve hand-eye coordination, develop logical thought and to enhance imaginative play scenarios!
If you love the natural buttons you may also love the rainbow buttons!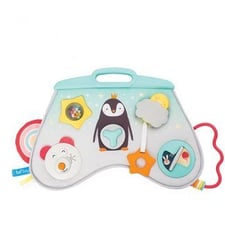 The Laptoy Activity Centre was created by Taf Toys with your baby's development in mind. Through play, the different features of this activity centre encourage baby's senses development, fine and gross motor skills and hand-eye coordination. The best thing is that this activity toy that grows with your baby! It can be used in the crib, on the play mat, or just about anywhere.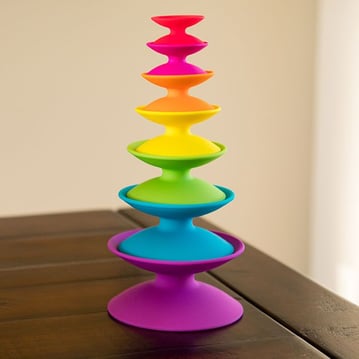 At first glance, the Spollz seem like just a stacking toy. But look a little closer - feel, explore, and experiment a little further - and quickly your child will discover there is so much more to them! Roll them and race them across the playroom, stack them into any configuration you can imagine. The Spoolz are finished with a uniquely soft yet grippable texture and are every colour of the rainbow! This set of 7 Spoolz ranges in size big to small and encourages the development of fine motor skills, spatial reasoning, creativity, problem-solving and more!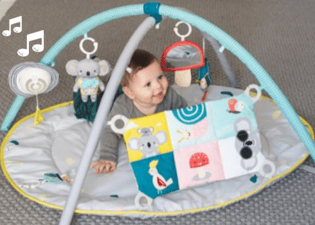 Taf Toys creates their toys to help your baby develop and encourages early learning through exploration. The All Around Me Gym has six playful activities including a unique addition of crinkling "Sensi Center". The All Around Me Gym allows for proactive positioning is hugely valuable for baby's motor, cognitive, sensory and learning development as you place your baby in a variety of body positions it stimulates baby's head turning and development. The Sensi-center has four attachments which encourages the baby to practice a variety of body positioning and to reach and kick out. The double sided crinkling center stimulates baby's eyesight and brain development and helps to teach the idea of cause & effect!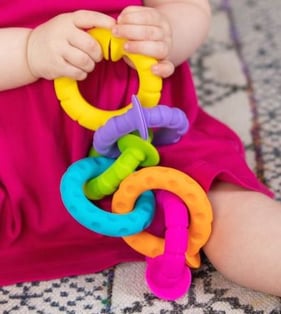 Connect the PipSquigz Ringlets to anything and let your little one explore! Each of these six silicone rings features fun, vivid textures and suction cup connectors that are quick to fascinate the senses and inspire hours of exploration. Loop them together or pull them apart with a POP. Hook them to the stroller, car seat, bounce chair, or anywhere and let the tactile excitement unfold. Perfect for early sensory learning!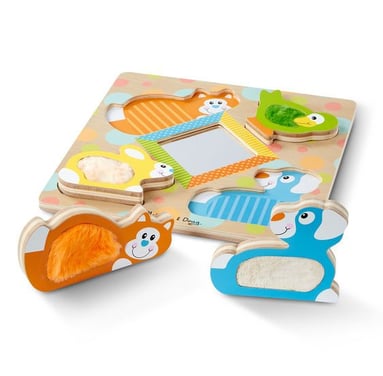 This chunky puzzle is a perfect first puzzle for any young child! Stimulate the senses with four furry, textured animal friends (a kitten, puppy, bunny, and bird) that stand up for pretend play or fit into the sturdy wooden puzzle board, surrounding a child-safe mirror. Babies and toddlers will delight in discovering colors and patterns while developing fine motor skills. First Play puzzles and toys feature bright colors, bold patterns, and whimsical designs that boost skills while sparking imagination and wonder - right from the start!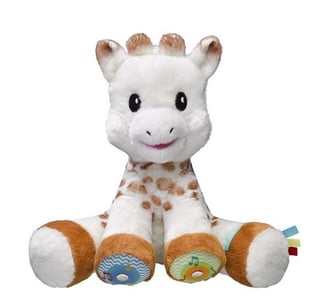 Everyone knows and loves the original Sophie the Giraffe, but my favourite version of Sophie is the Sophie Touch & Musical Plush! The touch and play music is evolutive and helps babies to grow and develop from the first months of life. It's both a friend to cuddle and a plush which stimulates its senses of touch and hearing. It also helps develop fine motor skills and allows the baby to understand the cause and effect relationship When the baby touches both sensors at the same time, a musical note is activated.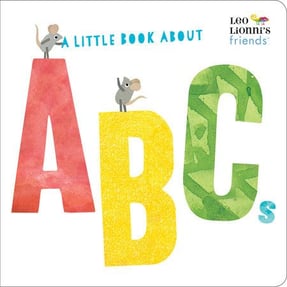 A new board book for the youngest of little learners, this alphabet book is perfect for teaching the little ones in your lives the ABCs! Discover alligators, beautiful butterflies, chunks of cheese, and lots more in this delightful alphabet book inspired by the works of legendary children's book author-illustrator Leo Lionni. With sturdy pages and colorful collage-style artwork, this ABC board book is perfect for any child!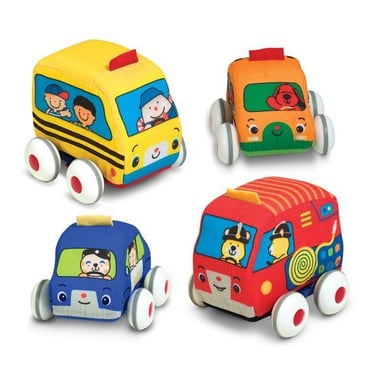 These soft fabric vehicles are bound to be popular at playtime, but with four exciting vehicles there are enough Melissa & Doug K's Kids toys nurture early childhood development in three key skill areas: physical, cognitive, and social. With interactive designs and multisensory features, K's Kids promotes constructive play and effortless learning, keeping interest high and new skills flourishing throughout the baby and toddler years! Wheel them back to get new skills speeding ahead! The "rev up" mechanism inside each of these four cars and trucks makes it easy for babies and toddlers to get big acceleration with just a little input: Pull back one of the soft vehicles--then release to see it zoom off across the floor! The action of grasping and pulling back is great for fine motor skills and hand-eye coordination; the activity of "driving" and collecting (pull, release, crawl) benefits large muscle groups and coordination, too. Get even more "miles per gallon" with a variety of colors, shapes and sizes, illustrated characters, and everyday themes to inspire conversations, cognitive connections, and imaginative play! Parents and caregivers will be grateful for the removable wipe-clean wheelie insert and washable fabric surface!
Children Ages 18 months - 3 years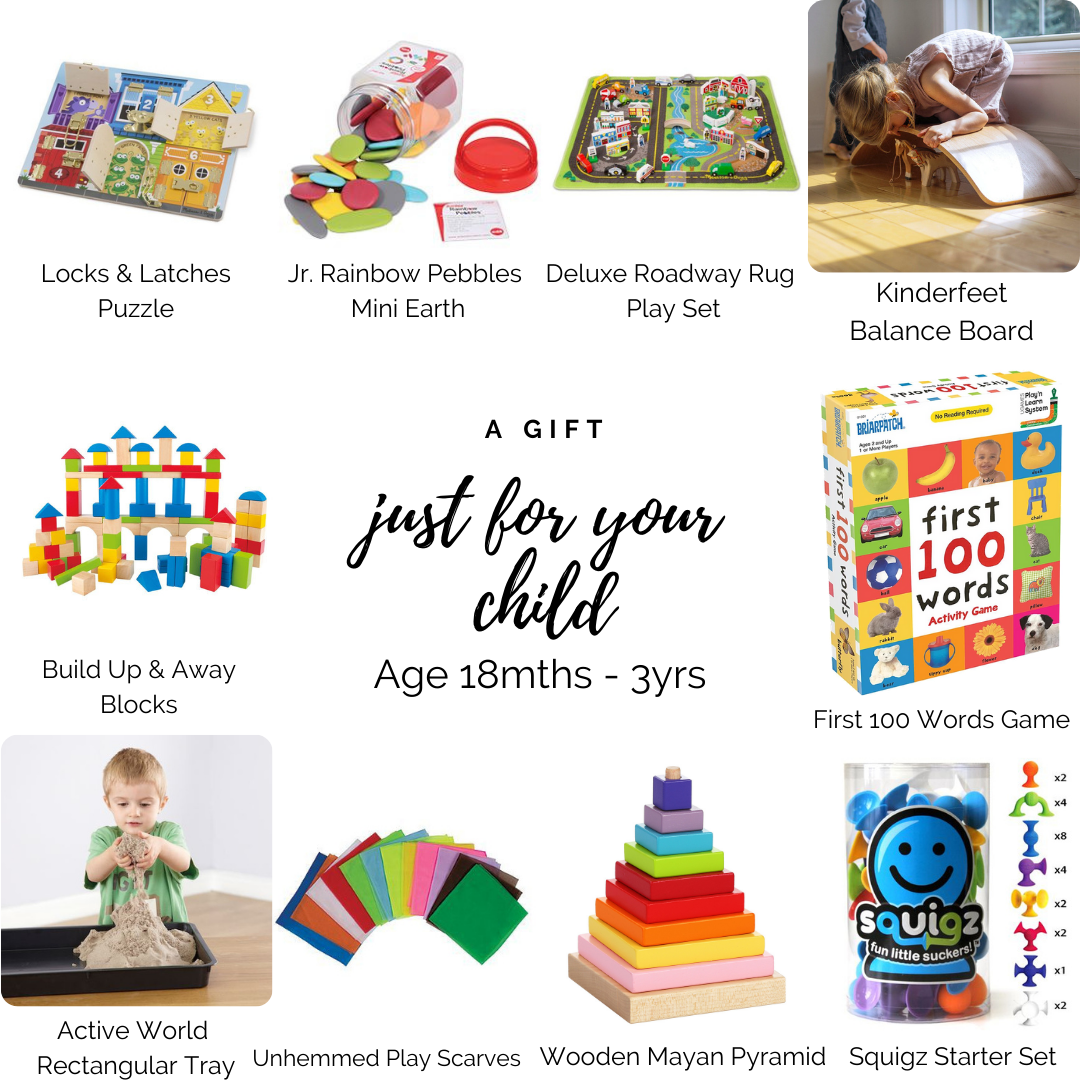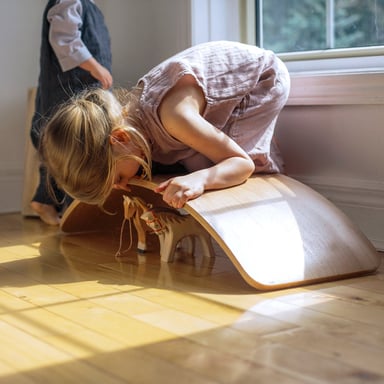 Watch the child's imagination take over once their Kinderboard arrives. It becomes a seesaw, a balance board, a slide, a step stool, a boat, a resting place, a doll bed, a puppet stage, a tunnel and many more opportunities for them to explore. The possibilities are endless—and truly up to them!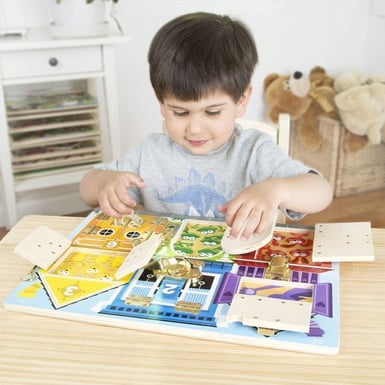 The Locks & Latches Puzzle is one of my very favourites simply for all the learning opportunities it has for young children. Go on a hide and seek adventure filled with discovery as they undo Locks and Latches on the colourful puzzle board. Each door has a surprise image - a reward for successfully manoeuvring the Lock or Latch. The Locks & Latches Board Puzzle is a great exercise in hand-eye coordination and early number identification!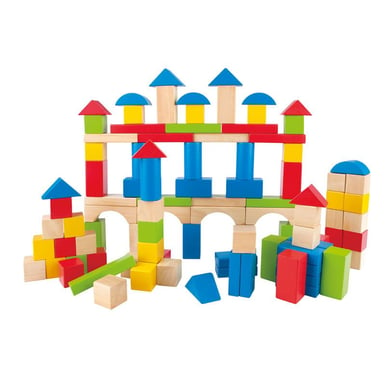 Sturdy, solid, and including all of your child's favorite colors, this Hape block set includes one hundred various classic blocks for counting, sorting, stacking, and building. Hape blocks are constructed to high-quality durability standards and are finished with child-safe water-based paints, ensuring a fun and safe block-building experience for years to come! Shapes include arches, triangle peaks, domes, rectangles, squares, support beams and platforms.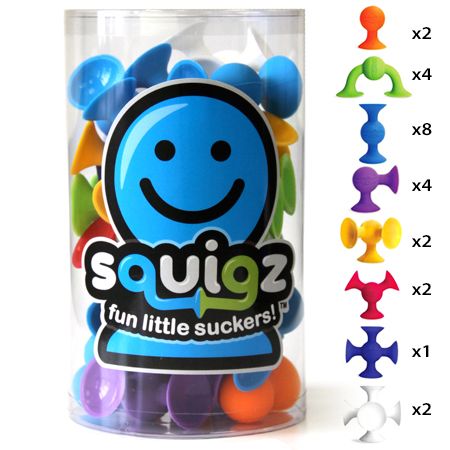 The Squigz starter set is a staff and customer favourite at Scholar's Choice! This beginner set of squigz encourages creativity, fine motor skills, interaction, playful experimentation. They provide relaxation and sensory stimulation as pieces connect easily and POP! apart. Perfect for the bathtub, walls, windows, and tabletops. Eight different, versatile shapes made of high quality silicone rubber that leave no residue or marks on surfaces!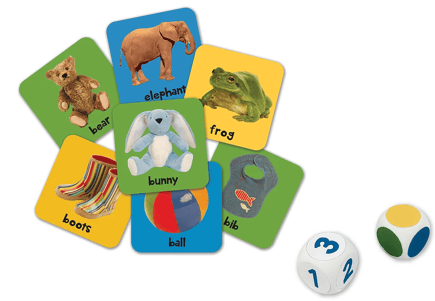 The First 100 Words Activity Game is perfect for developing early literacy skills in young children! SImply place the cards around the room, roll either die, then look for either the matching category card or the number of cards. Children identify words on the cards as they collect them and are introduced to simple counting, social skills, and 100 first words. Adults can get in on the act by asking children to find objects and giving hints along the way. This game teaches vocabulary, counting, shapes, and much more.
The Active World Rectangular Tray is a great value, sturdy plastic tray, ideal for lots of messy and small world landscapes! It is an absolute favourite of mine as it is the perfect size for individual activities and fits on any tabletop. This tray is a real staple for any household. Create worlds of play such as a dinosaur swamp, a lunar landscape or an African grassland with wet and dry materials, both natural and man made. Imaginations will soar as the children use this tray for transient art activities, messy play and so much more.
Need some ideas for how to play with the tray? Check out our Instagram.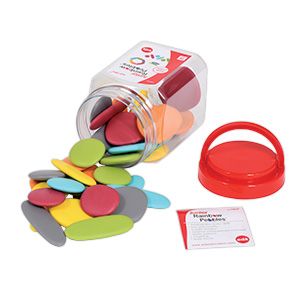 Children will have so much fun with this construction and early mathematics pebbles! They are specially designed in large sizes, ideal for developing fine motor skills, and for counting, sorting and creative designs. Each jar comes with an activity and learning guide for you to help guide your child! The Junior Rainbow Pebbles are made of smooth, durable plastic and made safe for young children.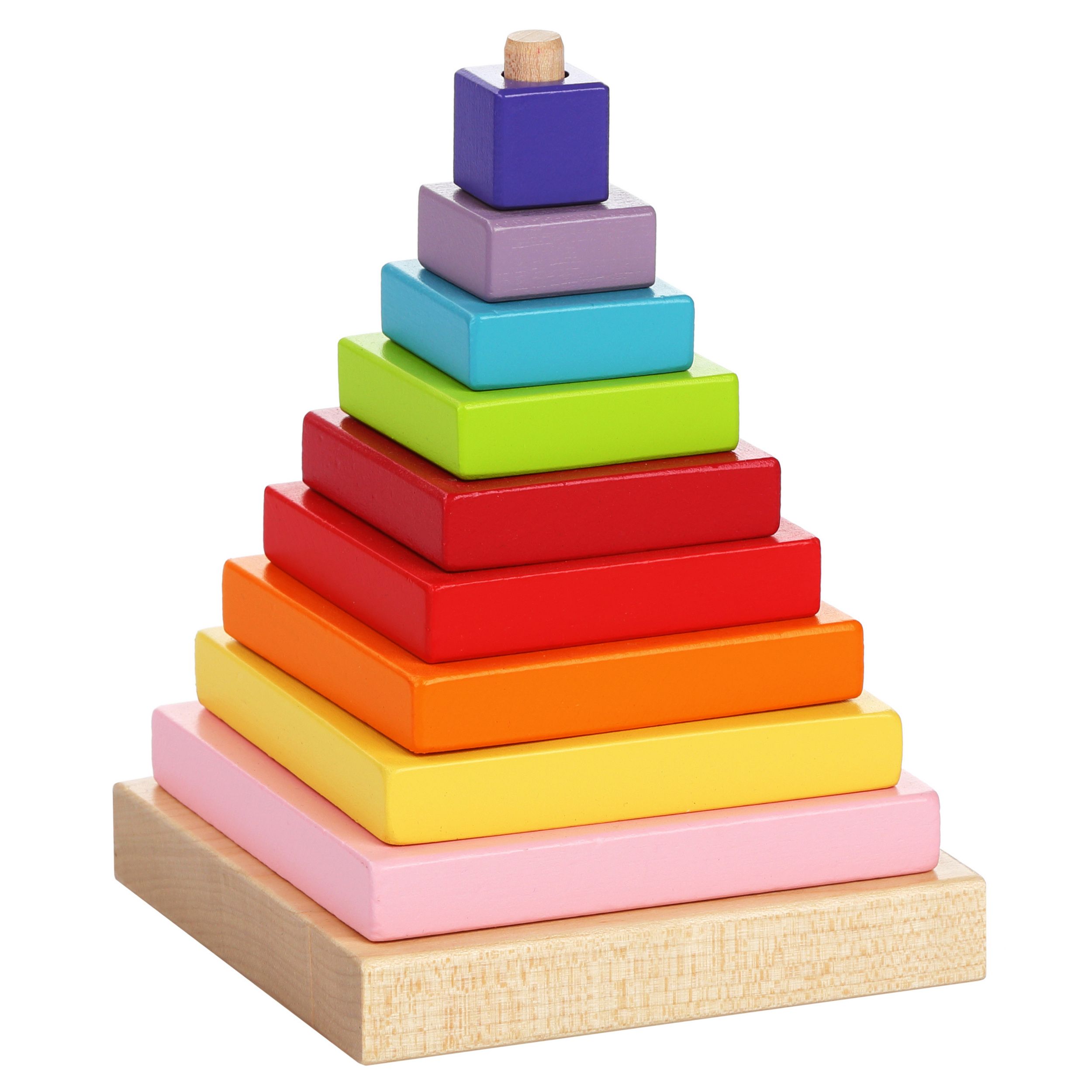 The Wooden Mayan Pyramid is a new loose parts piece that arrived just in time for the holidays! This unique tower is an awesome way to learn about size and series connection, stacking from largest to smallest, colours, and open ended block play!
Playing and stacking benefits your little one's develop of dexterity, coordination and fine motor skills!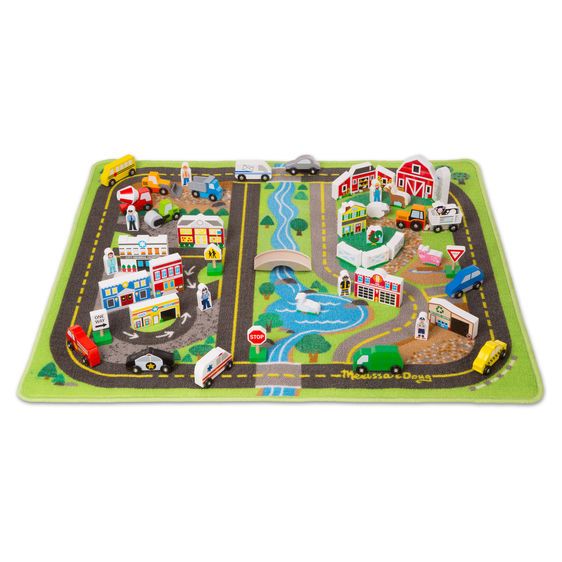 A world of adventures await with the Deluxe Road Rug Play Set by Melissa & Doug. From a bustling city scape to a busy barnyard, your child is in for hours of imaginative play with this soft and durable-don't forget machine washable-activity rug! The Deluxe Road Rug Play Set provides endless opportunities for children to self-direct their play with 49 brightly coloured play pieces that can re-arranged and used for dramatic and small world play. They are given a chance to express themselves, using sight and touch while creating scenarios and stories that reinforce social and emotional learning. Set consists of 49 wooden play pieces!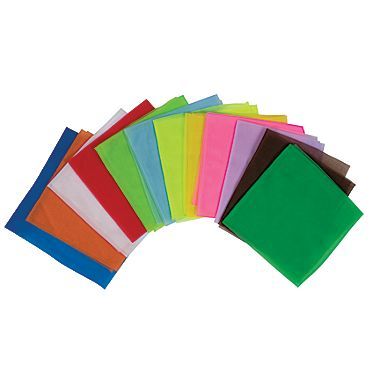 You may be looking at these unhemmed play scarves and thinking "why is this such a great gift for my child?" Play scarves can be used for for years of valuable play from the newborn stage through to elementary school years. They are a true open-ended material, a play scarf can become anything your child imagines it to be. A play scarf supports fine and gross motor skills, language development, sensory exploration and hours of creative play. They can be used in imaginative play as a costume or even to talk about colours and reflecting light! The possibilities are endless.
Children Ages 3-5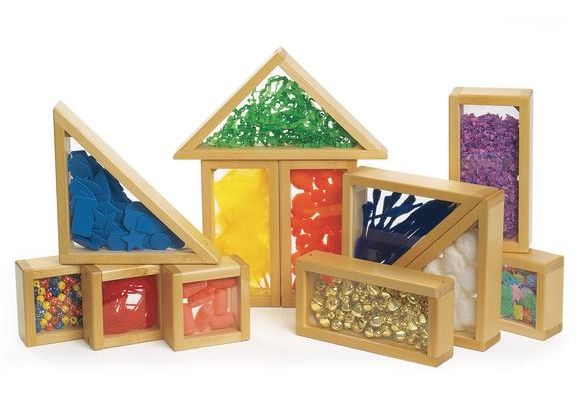 Children love to explore, and as they explore they collect treasures they want to save for another day. As parents you have all been caught in that moment where a child asks for something they found one day outside and want to see again. 9 times out of 10 it is lost. These window blocks can be filled and refilled with all kinds of natural finds, sensory materials, and more! These blocks take block play to a whole new sensory and creative level. Did you know playing with blocks builds fine motor skills and enhances eye-hand coordination! Look at what's inside, sort, shake, build away.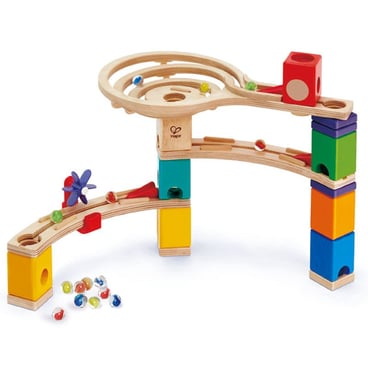 I think marble runs are such a classic first toy as they grow with your children as they develop and can continue to build and create incredible marble runs and race their marbles through the intricate wooden tracks to discover which is the fastest. The wonderful thing about the Quadrilla Marble Run is it puts your child's critical thinking skills to the test. With all the ways you can customize the Quadrilla track, there are endless opportunities for discovery-based play. There is no "right" way to construct Quadrilla, so children can self-direct their play while exploring new designs and express their ideas through building and experimenting. This wooden set helps children develop fine motor skills as they place the blocks together.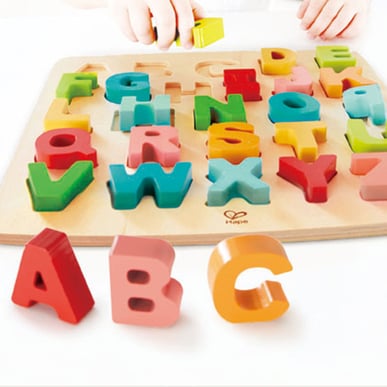 If you follow our Instagram you will know I absolutely love this puzzle! I think this puzzle is a wonderful first puzzle for any child as it provides children with an introduction to capital letters to take their first steps towards reading and writing.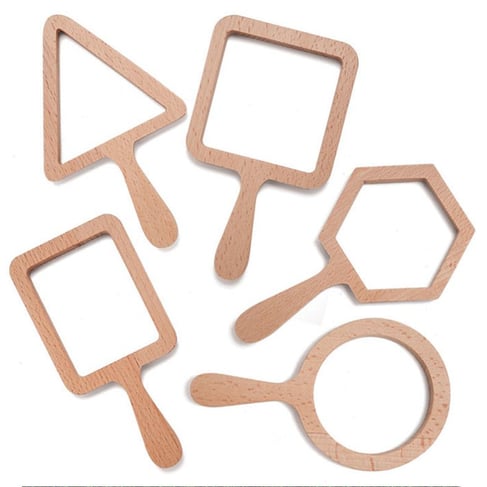 The Natural Shape Viewers will inspire children to explore their environment in a whole new way! The viewers are designed to frame a particular item or area in the natural world, you can encourage children to use them around the setting to find items of a similar shape or to focus attention on things they choose to investigate. The set includes circle, square, rectangle, triangle and hexagon.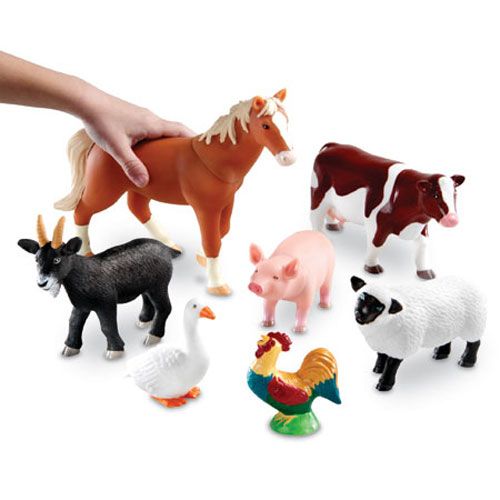 These figures are perfect for children who love to discover animals! Through the included activity guide children can learn more about the animals and their habitats. These animals make the perfect addition to any small world play set up and allow children to explore habitats, classification of animals and more!
Although the farm animals are pictured, we have all kinds of animals so you can find the perfect set for your children! Some of the other sets we carry are Dinosaurs, Forest, Ocean, Reptiles & Amphibians, Jungle, Pets and more.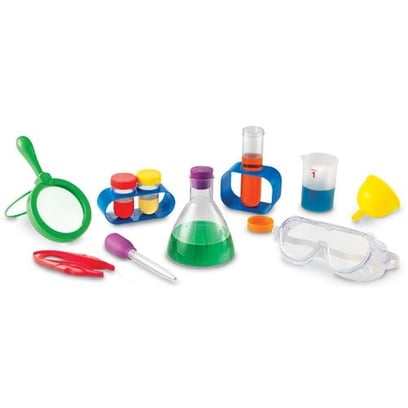 This set is the perfect for introducing young scientists to the tools of the trade that are age appropriate so they can engage in scientific inquiry based exploration! Sized just right for small hands, these science tools will encourage kids to make some amazing discoveries. The Primary Science Set includes durable, unbreakable beaker, magnifying glass, funnel, eyedropper, flask, tweezers, goggles, large (6") test tube and stand, 2 small test tubes with lids and stand as well as an activity guide. Tools also have accurate measurement markings to support investigations.
Included is a set of 10 double-sided Activity Cards to introduce science process skills, living and nonliving things, physical science, senses and more!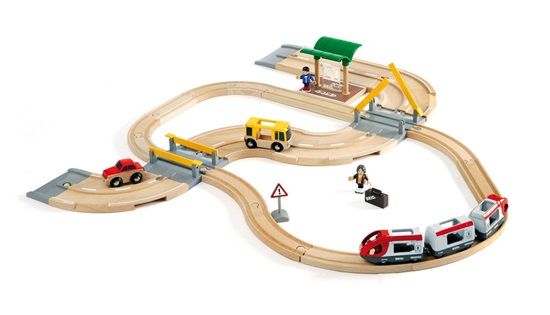 This Brio Rail & Road Travel set is the perfect first train set for any young child. The wooden rail & road travel set is great for young creators. It is safe, durable and encourages children to imagine while developing their fine motor skills.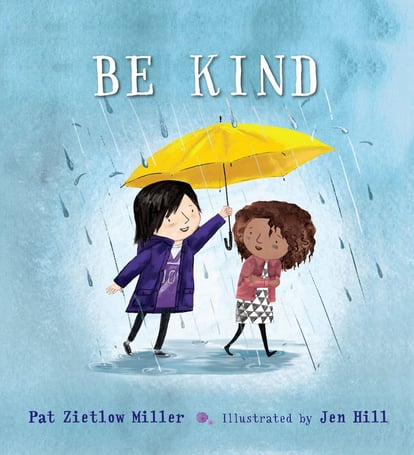 Kindness is one of the most important first lessons any child can learn. This book will help our children learn and think about "What does it mean to be kind?" From asking the new girl to play to standing up for someone being bullied, this moving story explores what kindness is, and how any act, big or small, can make a difference—or at least help a friend. Be Kind is an unforgettable story about how two simple words can change the world.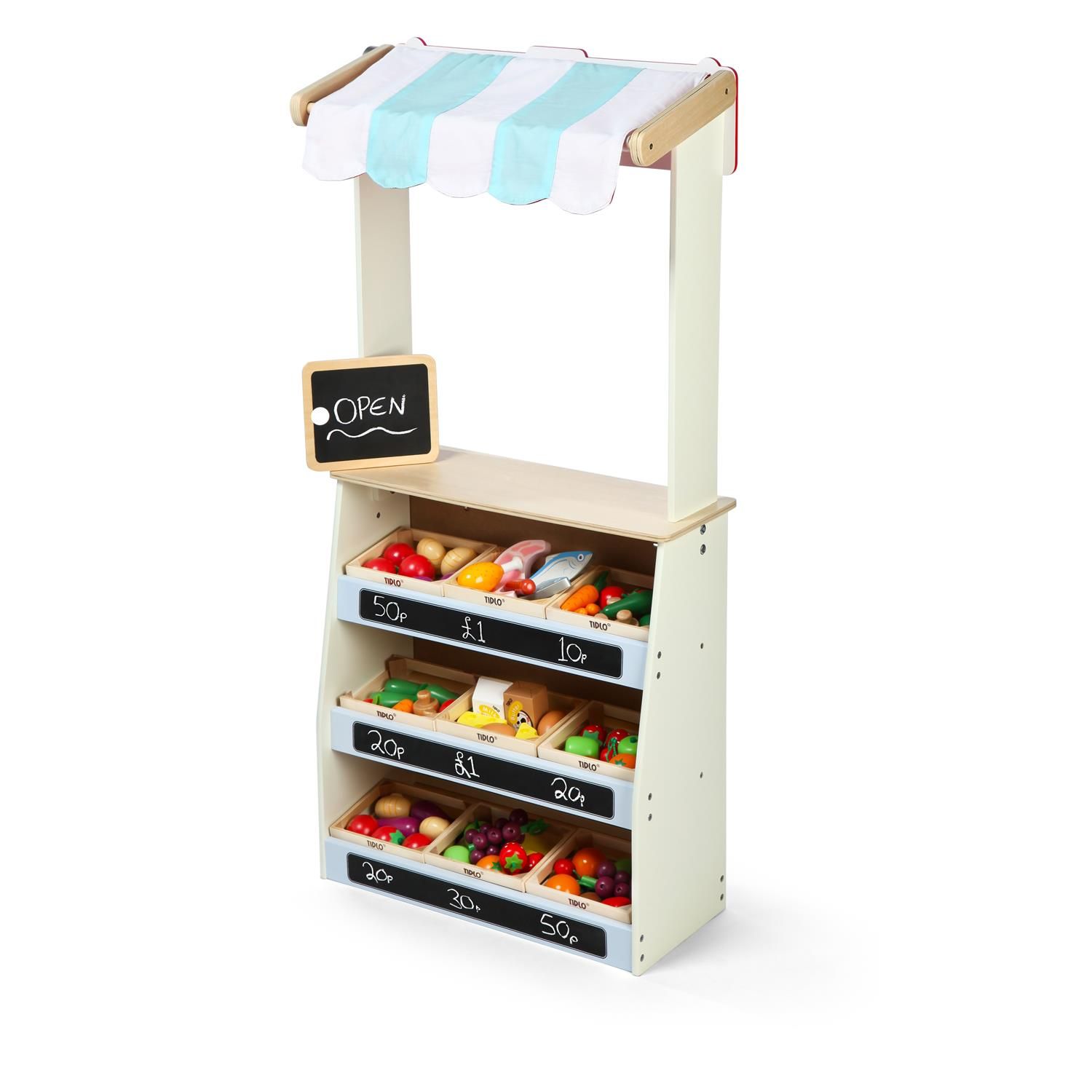 The Tidlo Play Shop & Theatre is the perfect two in one imaginative play piece made for any young child's playroom! Children can put on a puppet show for family and friends and then turn the Tidlo around to become a store to sell their favourite fruits & vegetables!
The Theatre includes:
-50 theater tickets included to dispense through the ticket machine slot.
-Chalkboard and clock to advertise the next play and show time.
-The shelves can be used to store puppets and props during the show.

The Shop Includes:
-Market stall design with a fabric roof and countertop area.
-3 angled shelves that will take the Tidlo food crates.
-Each shelf has a chalkboard panel to write the 'offers of the day'.
-Includes a removable chalk panel which can be attached on the side.
You can also check out the Tidlo Play Food Sets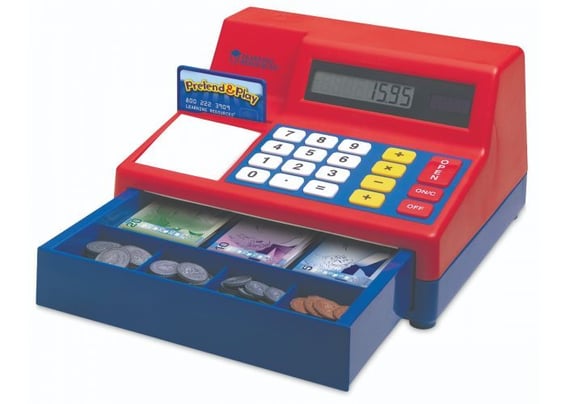 This large solar-powered cash register from Learning Resources was actually one of my very first beloved toys and is such a classic staple for any playroom. The Pretend & Play Calculator Cash Register helps build basic calculator skills with oversized buttons and large easy to read number displays while familiarizing children with life-size play Canadian bills and coins.
Children Ages 5-7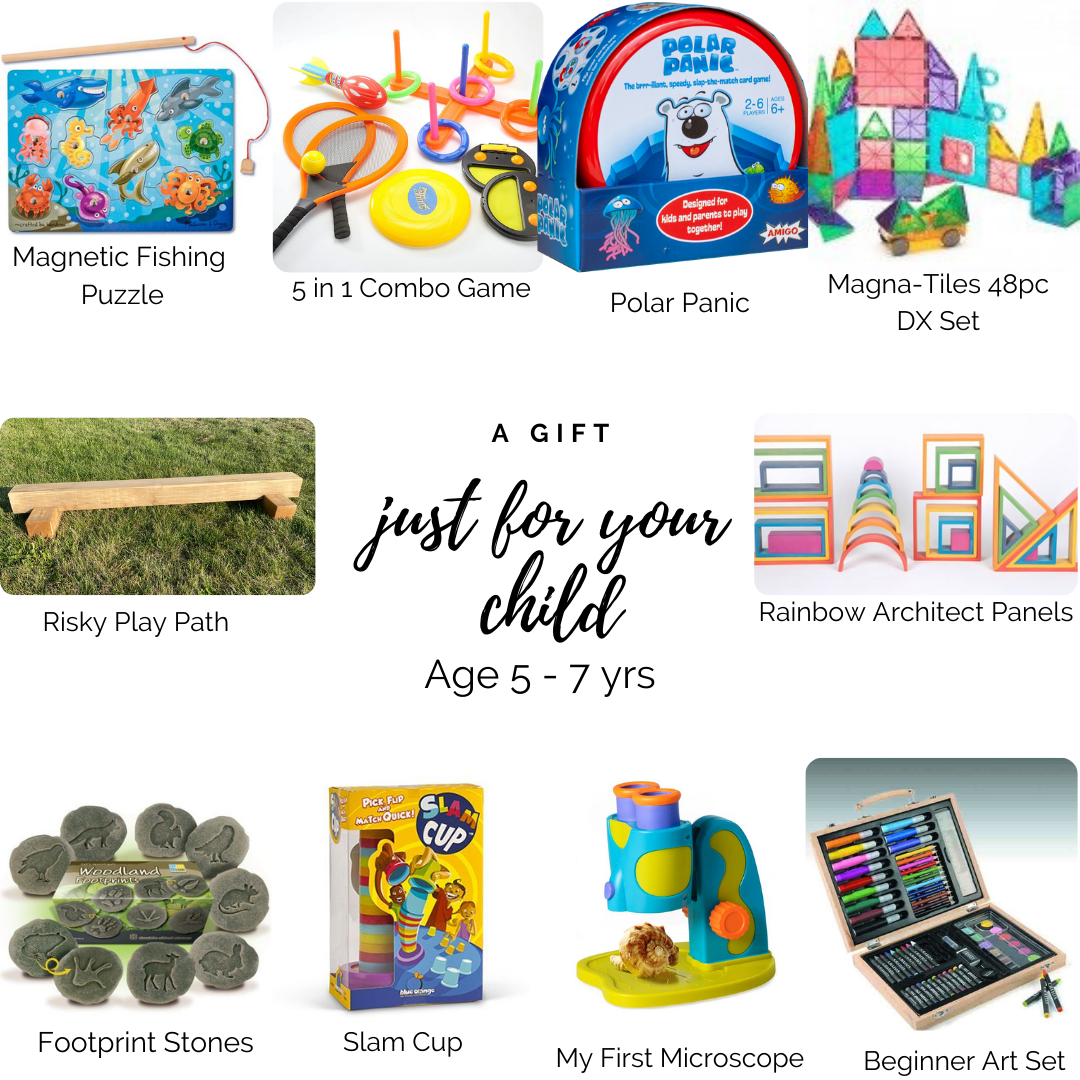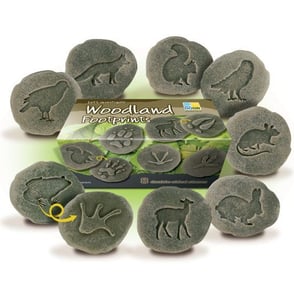 There are always plenty of animals to see and explore, but sometimes you need to follow their footprints to find them. Each double-sided stone has the raised footprint of an animal on one side and an image of the animal indented into the other side. Press the footprint into sand, mud or soil and create a trail for children to follow. What animal might they find at the end? When they find the animals, how might they sort them? Children can record their findings by taking rubbings, making impressions in play dough and discovering what else they know or can find out about each animal. When the work is done, the children can give the footprints a good clean with soap and water, before a new adventure tomorrow.
Made from a unique stone mix the footprints are robust enough to be used anywhere, including outdoors! Contains eight double-sided stones.
Love the footprint stones? We actually have these sets in all kind of other themes such as: Safari, Farmyard, Polar & Dinosaur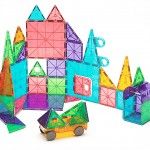 Magna-Tiles® Clear Colors are translucent and brightly coloured magnetic building tiles that spark hours of imaginative free play in children. Anything they can dream, they can create! The Magna Tiles help children develop early math, science, spatial and tactile skills. STEM approved!
Set includes: 48 translucent, colorful shapes including squares (3 large, 12 small), triangles (10 right, 9 equilateral, 6 isosceles), 1 wheeled chassis, 2 imagination pieces, 1 arch, 1 door frame, 1 hinged door and 2 hole-punched triangles.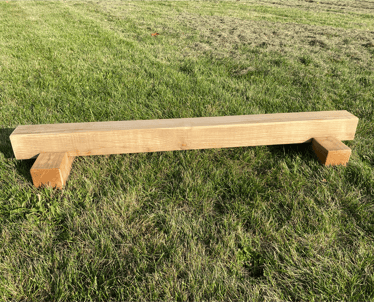 Our very own Risky Play Path 4ft is exclusive to Scholar's Choice! Made in Canada out of cedar, this sturdy beam will be a loved addition to any backyard.

Where will the path lead? Are they following the path in search of treasure? Is the floor lava and they need a way to cross? The possibilities are endless! This path allows children to learn about opportunities to push boundaries and challenge limits all while exploring! This risky play path will allow children to trust their instincts and test their capacity for play.

Outdoor furniture that allows children to explore and be curious about the world around them through play adds to their ability to learn and develop key learnings. This risky play path allows children to develop important gross motor skills, balance & coordination, and more!
The Risky Play Path 4ft consists of one beam. Add more beams to your play area for a longer path or configuration. Adding the Outdoor Stepping Blocks to this is also a great way to enhance your path.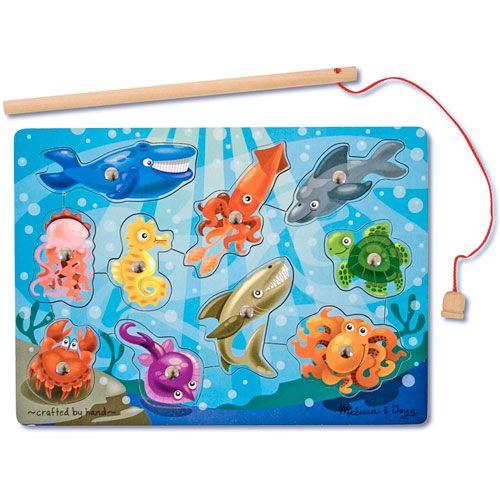 Is your child ready to dive under the sea and fish out some new marine friends?Children will love using the magnetic wand to lift and place magnetic pieces into the puzzle board. This puzzle is a creative way to encourage hand-eye and fine motor development.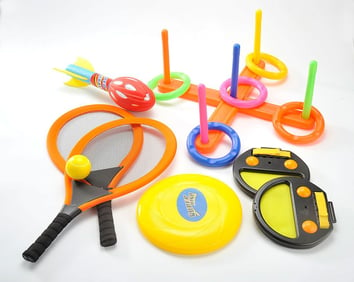 Have an active child who loves to go outside and play different sports? With 5 games in 1, there are endless opportunities for children to choose what games they want to play or create their own. The 5 in 1 outdoor sports kit is the perfect kit for any family!
Set includes:
- 2 Tennis rackets and UP ball
- 1 Frisbee
- 2 Catch pads
- 1 Football rocket
- 1 Ring toss stand with 5 rings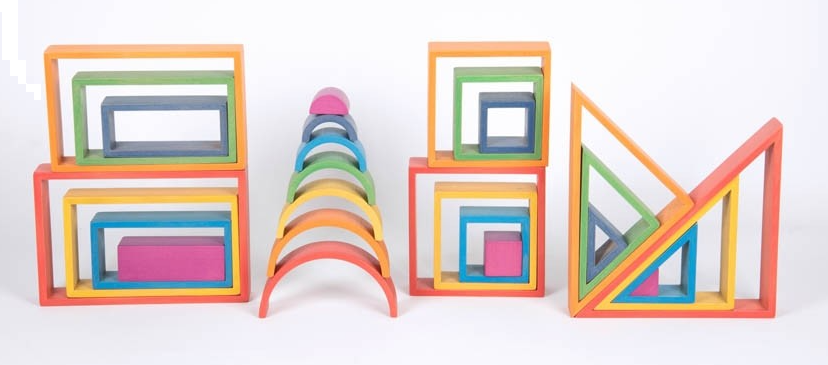 These rainbow architect panels will provide endless possibilities for creativity, construction and imaginative play, engaging children in learning so many different concepts! Using innovation and creativity to build towers, houses or freeform sculptures; using the imagination to design rooms for filling with small world play people or animals; applying mathematical logic to sort counters into the shapes which match by colour, shape or size; learning the geometric properties of common shapes; exploring size and scale; using mathematical terms - larger, smaller, taller, wider etc; and for improving language skills and broadening descriptive vocabulary.
Beautifully coloured natural beechwood hollow blocks in 4 geometric shapes - squares, rectangles, triangles and arches. Each group of shapes contains 7 graduated sizes for nesting, in the 7 colours of the rainbow. The inner block in each group is a solid 3D shape.
The Brrr-illiant, Speedy, Slap-the-Match Card Game! In this chilly challenge, players flip over cards one at a time, revealing surprisingly similar sea life. When players spot creatures that match they race to slap them—whoever slaps first collects the cards. But more often than not multiple players will slap multiple cards and there may be more matches than hands, so everyone is involved on every turn. It's fast, fun, and totally . . . cool! The sturdy tin is great for throwing in a purse or backpack.
Designed for parents and kids (or kids and other kids) to play together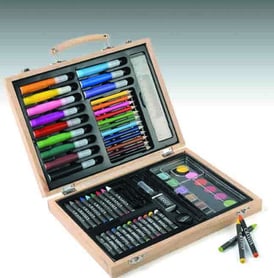 This beginner art set is perfect for any blossoming artist as it includes art materials of all different mediums so children can explore different types of art.
This great all in one art kit includes: 12 each of markers, crayons, oil pastels, pencil crayons; 12-colour paint palette, paint paint brush, eraser, graphite pencil, glue, ruler & sharpener.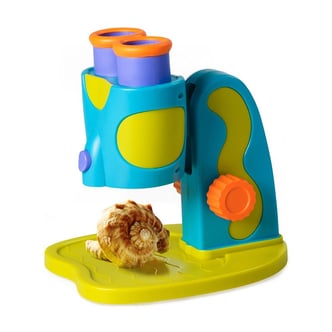 Get your child excited about science and introduce them to the miracles of magnification with their first microscope! Magnify any small object – flat or dimensional – at 8x the magnification! This working microscope is designed especially for little scientists!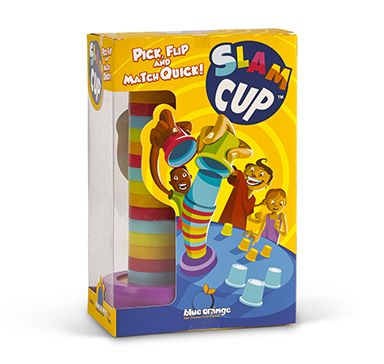 Match the cups then slam them down fast! Slam Cup is an intensely fast speed matching game. Match the color on the inside of your cup to the color on the outside of the top cup on the stack. Then slam your cup on top as fast as you can, before someone beats you to it! The first player to stack all their cups is the winner!

Skills:
Focus & Attention
Social Play
Processing Speed
Children Ages 8-10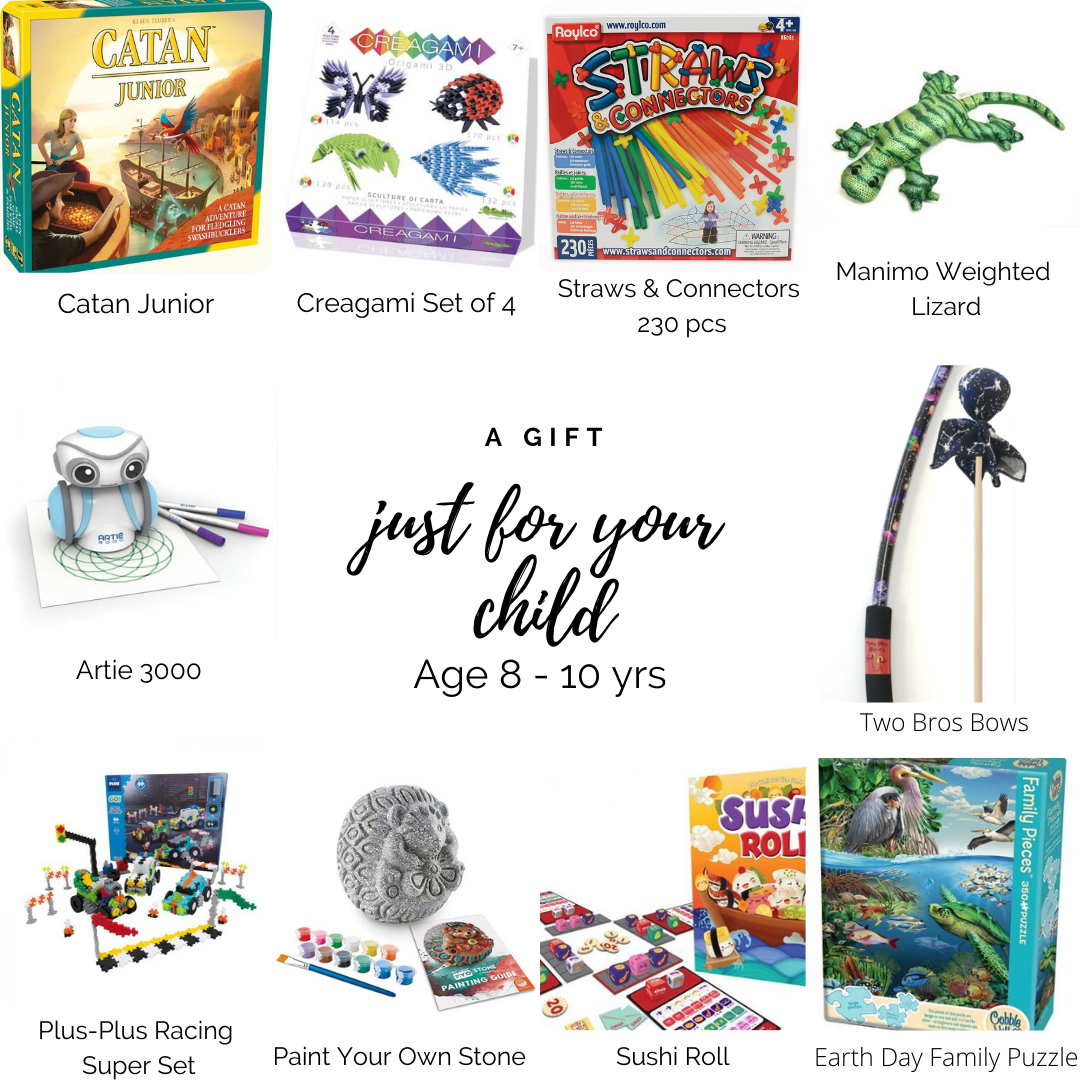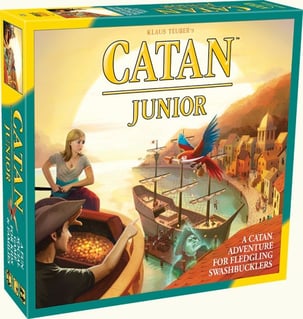 Catan Junior takes families with children to a place quite different from Catan as we know it. There are no "settlers" around here. Instead, the players slip into the role of pirates who build their hideouts - called pirates' lairs - all over the islands and set sail to find new places and build more pirates' lairs there.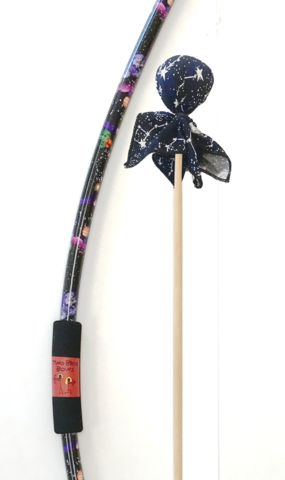 The perfect combo set to get you started on your Two Bros Bows adventure and bring out your inner Robin Hood! Get outside and run around with this kid tested, mother approved bow and arrows set. Each Two Bros Bows Galaxy Bow Deluxe Package comes with 1 galaxy decorated bow, 2 galaxy arrows, and a trifold hangable target. Two Bros Bows provides children with endless opportunities for discovery-based play and expressing themselves. Through touch and sight they build their coordination skills, creating obstacles and shooting ranges for longer, more difficult shots. They can also use this amazing product for imaginative play, like becoming a medieval hero. Children will practice their social and emotional skills while working together to find the perfect spot for the target and competing to see who the best shot is. Two Bros Bows is the perfect product to get kids outside for active play!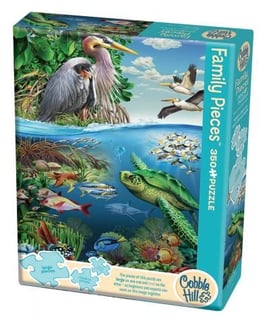 It's land and sea in this colourful Earth Day puzzle! This Family Piece 350 puzzle includes large, medium, and small pieces that cascade from top to bottom so puzzlers of all skill levels can contribute to the fun.

Creagami is a kit for creating modular origami! This centenarian Japanese art, which consists in folding sheets of paper in order to create colorful sculptures, stimulates the development of creativity and is often used to relax. The repetitive folding of individual cards is a good training for the development of concentration and fine motor skills. The numerous sculptures that can be built, colored and creative, are perfect decorative elements for the house.
The kit includes sheets of various colors, each with 24 pre-cut cards and with fold guides, with which you can make the necessary modules to create your 3D sculpture.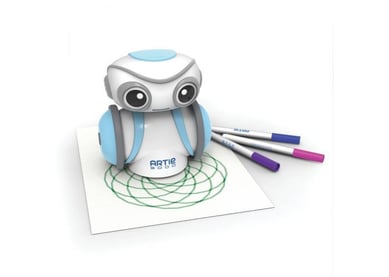 You write the code and Artie 3000™ draws the lines. Easy to learn and cool to create with, Artie 3000 comes ready to draw with preprogrammed designs, shapes, and games as well as a coding software great for beginner coders! Artie was designed to bring together art and coding through positive screen time learning! Artie 3000 knows Java Script, Python, Snap and more!
-STEAM and STEM-powered fun
-Introduces the basics of coding
-Fuels creativity and imagination
Includes WiFi-enabled drawing robot; drag and drop visual programming software; 4 colored markers; and quick-start guide. Comes pre programmed with shapes and games, or write your own custom code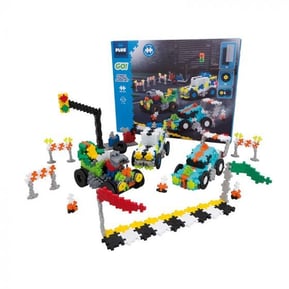 Build your own Plus-Plus Street racing set with street racing cars and a chasing police car. Comes with lots of accessories for many hours of building and playing with Plus-Plus.

Set includes 900 pieces, 12 reversible wheels, 6 extra wheels and 4 baseplates chassis.
Multiple Guide Books gives step-by step instructions to build the cars and accessories.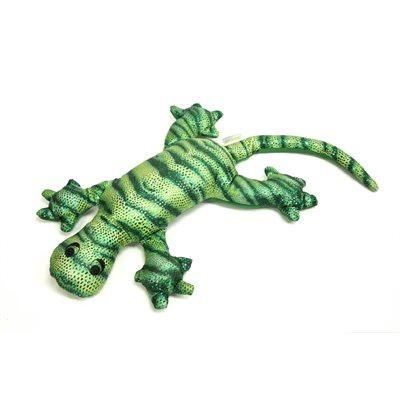 Meet the Manimo weighted Lizard! Soft and pliable, a manimo is placed on the child's most receptive body parts: shoulders, waist, thighs and stomach. The large paws envelop the child, providing a sense of comfort and security. We recommend using it for 15-20-minute periods to stimulate rest and/or concentration.
These weighted animals are recommended for all children, but were designed specifically for children with ADD, ADHD, ASD, anxiety or other disorders.
Want to see all our other Manimo's in different animals and weights? Check them out
here!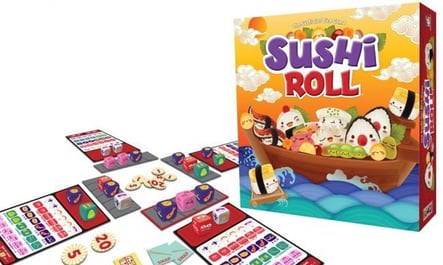 Rice and dice! Roll with your favorite Sushi Go! characters in Sushi Roll, a dice-based version of the best-selling card game!

Load up the conveyor belts with savory sushi dice —­­­­ then pick one and pass the rest! Earn points for winning combos like two tempura or a set of sashimi. Grab a menu to re-roll your dice or use chopsticks to swap with an opponent. And be sure to save room for pudding at the end!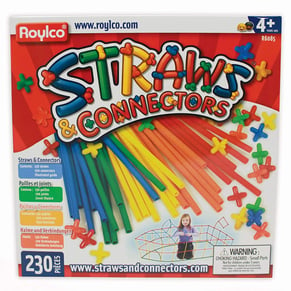 Simple to use for endless hours of imaginative play! Make playhouses and forts, design buildings, engineer spacecrafts. Appropriate for a wide age range. The most economical building set around!
Includes idea guide, 130 Straws & 100 Connectors
MindWare's Paint Your Own Stone Decorations are not simply designed to be crafts for kids—they're alfresco art projects for all ages! Create your own whimsical, hand-painted stone décor perfect for porches, patios and decks. No cement mixing or messy prep work is required; the stone Hedgehog is ready to paint, right out of the box. Vibrant paints encourage mixing, blending and special effects. Oven-bake your painted creation for a long-lasting, weather-resistant finish.
• Develops creativity, hand-eye coordination and color mixing skills
• Includes stone hedgehog, 12 pearlescent paints, paint brush and instructions