Why Mindfulness is Important for your School
During these unprecedented times depression and anxiety has been rising in children and youth. It is so important, now more than ever, to be implementing strategies in your school, to help children become aware and cope with the amount of stress they may be experiencing in their lives.

What is Mindfulness and how can it help my Community?




Mindfulness is maintaining a moment-by-moment awareness of our thoughts, feelings, bodily sensations, and surrounding environment, through a gentle, nurturing lens. It is th

e ability to be fully present in a particular moment in time.




There are many benefits to cultivating a community mindset that includes mindfulness in your school for both students and faculty.
What can mindfulness do for students?
Reduce Stress: Improved ability to manage stress

Increase Focus: Improved ability to pay attention, focus and concentrate

Improved Emotional Regulation: Reduced impulsiveness, improved child behavior (rowdiness, suspensions, expulsions)

Increased Emotional Intelligence: Improved conflict resolution skills

Increased Empathy and Respect: Increased empathy and understanding of others

Increased Resilience: Increased capacity to overcome challenges

Improved Physical Well-being: Increased engagement in physical activity

Improved Creativity & Collaboration: Improved expression of creative arts.
What can mindfulness do for teachers?
Reduces the likelihood that teachers will burnout and decrease stress levels

Allows for an easy to manage classroom

Improved learning environment

Creating positive relationships with students based on being mindful of their

situation
Where do I begin?
Find ways to educate your staff on Mindfulness Techniques. There are an abundant amount of amazing resources available to help introduce your staff to mindfulness techniques. Check out some of these great resources below:
Scholar's Choice Mindfulness Webinar: We had the opportunity to speak with Sherry-Lynne Kirschner of Mindful Me about mindfulness techniques and how to implement them in the home and classroom. Sherry-Lynne is a former teacher and author of the

Mindful Marmot

children's books.
Mindful Me: The goal of Mindful Me is to inspire and connect a worldwide mindful community who supports one another through culturing awareness, compassion, resiliency and global citizenship. Their website has educational videos, articles and courses you can sign up for to learn more about Mindfulness.
The Mindful Educators Podcast:

Hosts Dave and Erin are long time educators committed to using the power of mindful awareness in their lives and classrooms. Their mission is to create a community of educators who are cultivating a positive school culture one mindful classroom at a time. They release episodes each week about Mindfulness and topics related to education!

Calm Meditation App

:

This app is now free for educators! You can now get free access to Calm's paid subscription service and access their library full of guided meditations, mindfulness exercises and soothing music. Through the Calm Students Initiative teachers can also opt in to receive best practices to introduce mindfulness to the classroom as well.
What tools do I need?
To encourage your children and staff to be more mindful, there are many Mindfulness tools that you can make readily available in your classrooms. Here are some recommended resources we offer at Scholar's Choice.
Books
Books are an easy way to introduce to children to the notion of mindfulness in a manner that is age appropriate for children. They can help you establish breathing practices with your kids by teaching different mindfulness exercises, enabling children to manage their bodies, breath and big emotions.
Our favourite books are: Breathe Like a Bear, Follow Your Breath!: A First Book Of Mindfulness, Listen Like an Elephant, Marvin the Mindful Marmot, I have feelings MySELF Social Emotional Learning Foundations
The use of fidgets as a way to relieve stress, anxiety and manage large emotions has been on the rise over the past few years. Initially fidgets were used predominantly for children and adults with ADHD as a way to help them focus. More often people use fidget objects – like a favorite smooth stone – to calm themselves down, helping them achieve a more relaxed, contemplative, even mindful state.
Our favourite fidgets are: Loopeez, Tangle Jr. Classic Fidget Toy, Thera Way Anti-Stress Ball, Simpl Dimpl by Fat Brain Toys, Finger Fidget Stones 12 pcs
Calm Down Corner
A calm down corner is a designated safe space within a room for students to go when they can feel their emotions are running high and need to regain control of themselves and their situation. They allow children to recognize their emotions and be in touch with how they are feeling and offer them a chance to learn more about emotional regulation and remaining calm in the face of large emotions.
In a calm down corner it is suggested you fill it with resources that will help children process their emotions such as sensory fidgets, books, weighted objects, etc.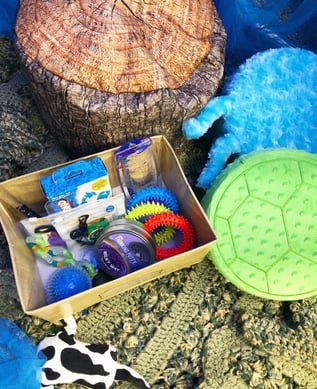 Incorporate Mindfulness Activities and Rituals in your Student's Daily Routine
You can take small steps and implement small changes in your classroom routine to include mindfulness such as a daily "mindful moment" break for you and your students, start incorporating mindful movements (yoga) in your physical education curriculum, guided meditation with imagery, and more!
Mindfulness is an important part of physical and mental wellness which is critical in these times of uncertainty. Be healthy, be safe, be mindful and take care of one another.