Keeping your students engaged can be difficult sometimes, especially around the holidays. Incorporating games in your classroom is the perfect solution! Every child loves games, they are fun, exciting, and create a dynamic that can inspire children to develop skills and competencies as they focus on the end goal. But you may be shocked by the beneficial usage of games for a child's education and the development of fundamental skills. Be inspired by these 5 games and discover why games are

not only fun but help children learn and develop skills in the classroom!
Math Squared is the NUMBER ONE math game. Math Squared by Scholar's Choice is a simple game to play that helps children learn their addition and multiplication facts. The aim of the game is to line up three of your coloured pawns in a row by rolling the dice and answering math questions, finding the intersection that corresponds to that answer, and placing their pawn. It is an extremely fun way to teach children math. For children to master addition and multiplication facts they need to practice them over and over. Math Squared is all about learning addition and multiplication facts in a fun entertaining and effective way. Learning addition and multiplication facts at a young age will lead to future success. This game will keep your students entertained for hours and will help them quickly grow math skills through the power of play!

Bananagrams is a literacy-based game where two or more students can go against each other to create a word grid. Each player takes the same amount of tiles. Once all the tiles have been distributed evenly, any player calls out "SPLIT!" Everyone simultaneously turns their tiles faceup and races to arrange them in their own intersecting word grid. Words must read left to right horizontally, or top to bottom vertically. You may rearrange your grid at any time, and as often as you like.
Whenever a player places their last faceup letter in their grid, that person calls out "PEEL!" Every player—including the one saying "PEEL"—then takes another tile from the BUNCH.
At any time during the game, you may call out "DUMP!" and put one of your letters back, facedown in the BUNCH. However, you MUST take three more tiles in exchange! This has no effect on other players and there's no limit to the number of times you may DUMP.
The first person who creates their word grid first wins and is crowned "top Banana"! A player must use all of their letters and must have real words... no cheating! Bananagrams is a great way to teach children spelling and literacy skills and there are different versions for different age groups. It is one of THE MOST EXCITING games you can play.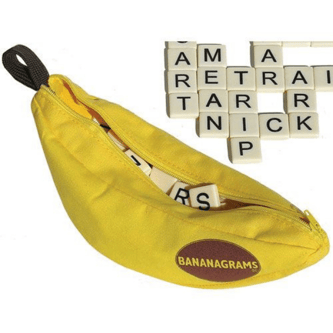 Mobi is an award-winning game designed to help children improve their math skills. Setting up this game is super easy, First, empty all tiles onto a flat playing surface. Separate the blue (number) tiles from the white (operation e.g. +, ) tiles. Mix up all the blue tiles and take 7 each. The winner of the game is the person who uses up all of their blue tiles first by connecting them up with equations in a crossword-style grid. When a player has one blue tile left, that player shouts "FLIP" and ALL PLAYERS pick THREE more tiles from the center, this continues until there are no more blue tiles left. The first player to connect all of their blue tiles shouts "MOBI" and they are the winner!! Discover for yourself why MOBI is an award-winning game and why it is helping children learn and love math.
Memory Foodie Favorites is a classroom favorite and can be played with as many people as you want! To play this game, shuffle the cards and set them face down in rows. On each player's go, turn over 2 tiles. If the tiles match, place both cards in a pile next to you and take another turn until 2 cards don't match. The next player takes their turn and so on until there are no more tiles left to match. Apart from being fun, this game grows fundamental skills such as memory and cognitive skills. This is a fun game for all ages, and will also bring out any adult's inner child.
Now you might be shocked to see a game like EXIT on this list. If you are unfamiliar with the EXIT games, they are a series of escape room type games that you can play in your classroom, but they help develop many skills. In the EXIT games, a team of players start in an imaginary room or are trapped somewhere. The team must then solve a series of puzzles and riddles in order to unlock different doors and get new clues. Every time a clue is answered correctly, a new one is given until eventually, the team escapes. But that is not all, the team is on a timer and the faster they get out with the least amount of hints, the more points the team earns! EXIT help develops problem-solving, logical thinking, and creative skills which can be used to help children develop other skills.
These games are only 5 examples of great games that are not only fun but can also help develop different practical and academic skills in the classroom and keep children focused. Discover our full range of games and see what skills your students can learn while having fun!