As it gets colder and Christmas is getting nearer, children will be fascinated by everything linked to the changing of seasons. Here are some great ideas for recreating a winter wonderland in your centre.
MESSY PLAY
A fantastic way of creating awe and wonder is to add sensory materials to your messy play activities. Using snow, soap flakes, shaving foam etc. is great for recreating a winter wonderland.
Magic Instant Snow is really fluffy and can be made with cold water for that realistic shivery experience. Use it in trays and bowls, create your very own arctic adventure with arctic creatures, real ice, glitter and foil.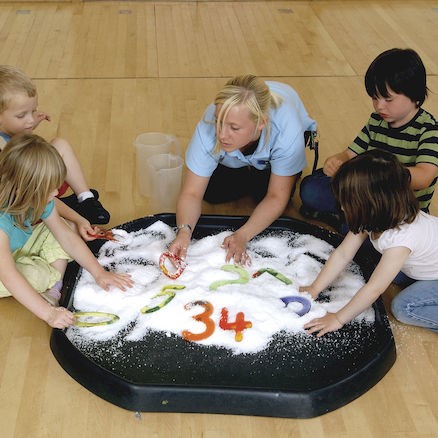 BLOCK PLAY
Build a shelter using the Ice Bricks or Glacier Bricks for a creature to hibernate and keep warm for the winter. Can you build an igloo? Use Ice bricks to build one of your own!
DRAMATIC PLAY
Using the Dark Den and some imagination, bring the North Pole to life! In the picture shown below, the centre has created Santa's home, but your children may decide they want to design Santa's workshop. Let their imaginations drive this activity. Decorate the Dark Den with fabric, hang lights inside and Instant Snow on the ground for added sensory benefits, and have students cut out snowflakes and other decorations for the scene as well!