Independent play is a key area of early childhood development. It helps children develop vital skills and positive learning habits which they will use their whole lives.

Independent play is also critical in creating a successful classroom environment. Throughout the day independent play can work as a buffer that may keep children occupied when teachers and educators are engaged with other students. These buffers are important during a wide range of times throughout the day:
Drop off and Pick up times
Outdoor/Indoor transitions
Washroom Routines
Rest Time
Each of these areas produces an unique situation where students may be required to keep themselves occupied. Whether it's kids who get ready quicker then others or simply don't feel like their bodies need sleep during rest time, independent play is a great solution to keep their time productive!

Here are some of our favourite ways to encourage independent play around the classroom!

Activity Bins

Activity bins are one of the simplest, yet effective ways to encourage independent play. Bins of toys, blocks or other quick activities can be placed around the classroom, in key areas where independent play is needed.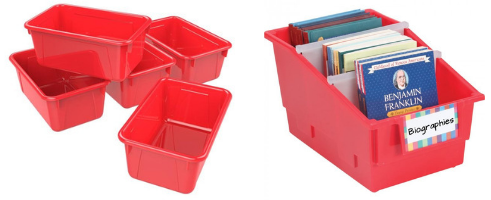 Bins can be singular (left), or multi-compartment (right) allowing for the storage of different types of toys and books to suit different students play types. Once the time for independent play is over, children can be prompted to return their toys to the bin for a quick clean up.

There are a variety of options when it comes to decorating and organizing a classroom. One area to optimize that is often overlooked is the classroom floor. Usually thought of as a convenient place to sit during story time, play carpets have the ability to create easily identifiable areas for independent play.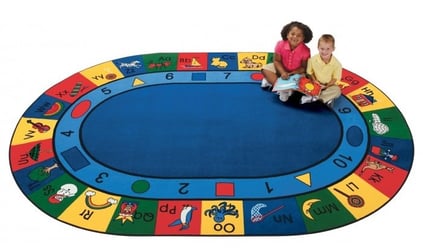 By denoting an easily identifiable area for independent play, you can prompt a child's independence throughout the day. Now when they are waiting for the rest of their friends or passing time while they wait for pick up, the child knows where to go to keep themselves entertained. Further enhance denoted play areas with themed carpets for areas like block or quiet play areas.


Washable Books and Toys
One aspect of the day that can benefit from the addition of independent play is the washroom routine. In many facilities bathroom breaks happen as a group. During these times educators are required to manage multiple children who may be at different developmental stages. Through the addition of independent activities to the washroom area educators are able to better manage. These toys are perfect for an easy pick up and cleaning at the end of the day.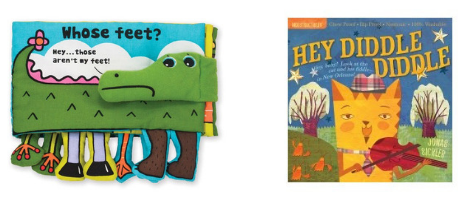 Soft books like Whose Feet? (left) and the Hey Diddle Diddle! (left) are easy to wash. Just toss them in the washing machine if they get dirty and they're ready to go!