CALLING ALL TOY TESTERS! This Saturday is our STEAM Toy Test Event! Don't miss out on the fun. Not sure what's in store for you? Here's a closer look at exactly what you will be testing this Smart Saturday.
Botley The Coding Robot
Meet Botley, the code to fun! This little robot introduces coding to children as young as 5, in an easy and engaging way. With Botley's advanced features, you won't have to worry about child outgrowing this toy any time soon. Botley grows with you child for many play-filled years to come.
Put your phones and tablets away for this one, folks, because Botley is 100% screen free!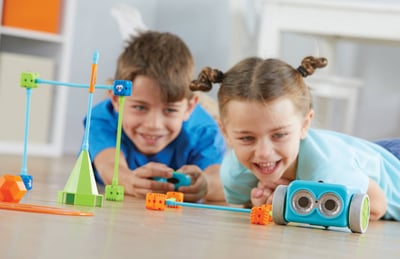 Botley The Coding Robot
How to Use: Programming Botley is easy! Have you child program commands into Botley via the four large buttons on the controller, then they can tap the transmit button to send the code to Botley. Once Botley's got the code, it will make a little noise and begin executing the instructions. Botley also comes with an easy to read instruction booklet, with many ready to use coding ideas to help get your child started. Botley can detect objects and be programmed to go around objects with if/then logic; it can also follow looping commands, take on obstacle courses and follow black lines. Once they get the hang of the coding features, the fun is endless!
Extending the Fun: There are so many great ways to play with Botley, one of our favourites is by challenging each other. Build an obstacle course or track and see if your friends can solve it!
Benefits: Your child will develop early STEAM skills while playing and learning with Botley and it's perfect for promoting critical thinking and problem-solving skills.
Features: Botley Robot, remote programmer, detachable arms, 40 coding cards, starter guide and coding challenges.
Marble Race Deluxe 100 pcs
With over 100 pieces to use, designing and building your own marble run will be so much fun. With this toy, children can create a track that allows them to enjoy the sights and sounds of play as they drop a marble into the top and watch it roll through twists, loops and spinners.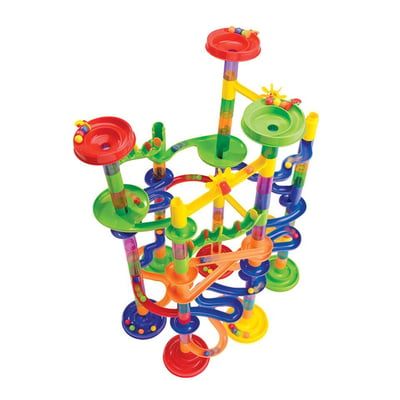 Marble Racce Deluxe 100 pc
How to Use: Unpack the pieces and set your marbles off to the side until you're ready to use them… this is so you don't lose them. Place a base piece on a flat surface and start building! The more base pieces you use, the sturdier your track will be.
Build your towers by using the connectors, these connect two towers together. Use your imagination when connecting towers, as some pieces are made to speed marbles up! Want to build your tower higher? Use the extender pieces. When you're done, complete your track by connecting a start piece to the top of all the towers. This is where players drop their marbles to begin the race and are equipped with flippers to hold the marbles to prevent head starts. First marble to reach a base, wins!
Extending the Fun: Time your run! See how long it takes your marble to reach the end. Then build a different track using the same number of pieces and see if your marble can make it to the end faster.
Benefits: Your child will develop early STEAM skills while building marble run tracks! With this customizable toy your child's imagination will grow as they plan and build different tracks and puts their critical thinking and observational skills to the test. This toy also encourages independent and group play.
Features: Six sturdy base, over 100 interchangeable pieces, 20 marbles, and 2 pinwheels!
Mobi Math Game
Möbi is a simple, quick and addictive number game that you can take anywhere! It encourages kids to direct independent and group play by bringing numbers to life! Considering each player creates their own math grid while playing Mobi, it's ideal for families or groups of friends at different skill levels.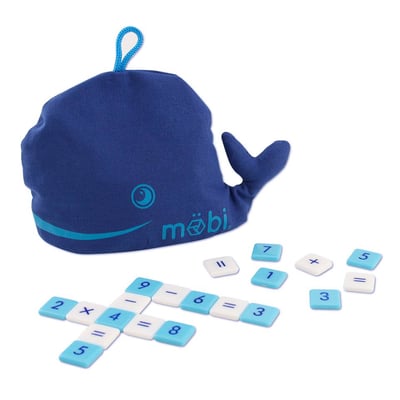 Mobi Math Game
How to Use: Empty your tiles from the handy canvas bag and separate the blue from the white. All blue tiles are numbers, while the white tiles are operations. Mix up your blue tiles and have each player take 7. The player's goal is the be the first to use up all their blue tiles by connecting them with mathematical equations in a crossword-style grid (or a POD)
When someone runs out of a blue tile, they say "FLIP" and each person picks up 3 more blue tiles from the pile. This is repeated until all the blue tiles in the pile run out. If a player ever finds themselves with a single blue tile they can't use, they call "SWAP" and switch out that 1 tile for 2 new ones.
The first player to connect all their blue tiles shouts "MOBI"! And becomes the winner (Now it's time the group checks that all their equations are accurate, they have followed the rules, and all makes sense.)
Extend the Fun: Set a time! How many equations can you make before the timer runs out. Want a surprising challenge? Remove all the multiplication and subtraction tiles from the white pile, except for 2 (one of each). Then play a normal game or a timed game with this added obstacle.
Benefits: Playing Mobi is a great way to improve your child's quick calculation, visual processing, sequential thought skills, while also gradually increasing their arithmetic skills in a fun way! Mobi also helps build fine-motor skills and hand-eye coordination. With these improved skills, your child's knowledge of and confidence in math will increase.
Features: Adorable Mobi [whale] shaped carrying pouch, and 162 assorted tiles.
Flexistix Creativity Kit by Hape
Your child is an aspiring engineer. They build with blocks, they stack cups, they make bridges out of anything, so why not encourage that creativity with a Flexistix Kit? Your child can build a variety of shapes and structures by using the bamboo sticks and connectors. Guide creations with the 10 projects included in the kit or encourage children to create their own designs!
Added bonus: this toy is eco friendly as it's made from bamboo, one of the fastest growing plants on the planet.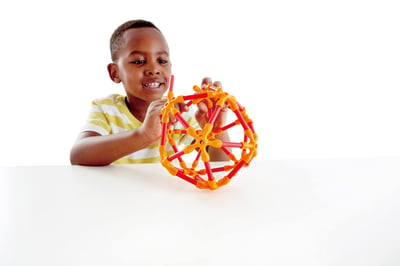 Flexistix Creativity Kit by Hape
How to Use: Empty the box, separate the bamboo sticks from their connectors, and start building! It's as simple as that. Plan out what to build, or use a pre-planned project from the kit, and start connecting bamboo sticks with connectors to build your planned creation. If you can imagine it, you can probably build it with Flexistix!
Extend the Fun: Try the egg drop challenge with Flexistix! Create a protective device to help keep your egg safe, drop your creation from a higher distance, and record what happened. Did the egg break? Why or why not?
Benefits: This STEAM based play kit is great for encouraging creativity, and observational skills. It also helps build fine-motor, hand-eye coordination, and critical thinking skills. Great for independent play.
Features: 133 bamboo pieces and connectors, 10 pre-planned projects.
Well, aren't you excited to test all of these awesome toys? I know we are! Head in to your local Scholar's Choice, Saturday November 3rd, to participate in the fun!
Find more event details right here: www.facebook.com/events/177339633174600/?active_tab=about