Due to the daily conflicts that can arise from children sharing space, toys, and learning experiences, caregivers often feel like they're playing referee. If children want something, they will figure out what works best to get what they want from who can give it to them, and sometimes the actions to get what they want can be... aggressive.
Helping children look outside of themselves and consider other's feelings and needs is a crucial part of learning about and showing empathy. Modeling, encouraging, and coaching kind behavior is helpful in bringing this quality to light in a child's world.
That being said, how does one teach kindness? It's easy to show through actions, but how do you teach the "why's" of kindness?
These books about kindness may offer new insights to help inspire your child to react differently in a tough situation, teach them how to foster positive relationships, and learn to communicate effectively without aggression or demand.
The Recess Queen by Alexis O'Neill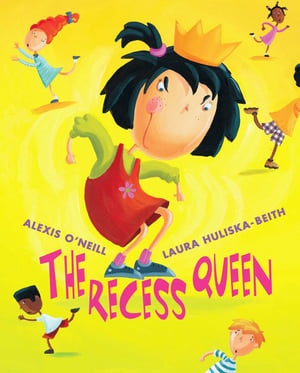 The Recess Queen by Alexis O'Neill
Mean Jean was Recess Queen
and nobody said any different.
Nobody swung until Mean Jean swung.
Nobody kicked until Mean Jean kicked.
Nobody bounced until Mean Jean bounced.
[…]
Until a new kid came to school!

In this infectious playground romp, Alexis O'Neil puts a new spin on the common issue of bullying. Not only will children easily relate to the story, parents and teachers will appreciates the way the story handles conflict resolution.
(best for pre-k to grade 2)
Strictly No Elephants by Lisa Mantchev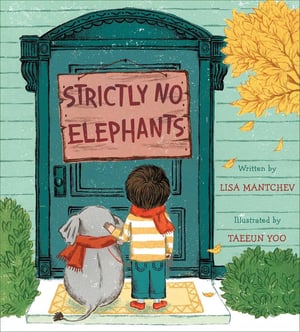 Strictly No Elephants by Lisa Mantchev
Today is Pet Club day. There will be cats and dogs and fish, but strictly no elephants are allowed. When the Pet Club puts a strict rule on no elephants, one boy and his elephant must find a solution. With the help of a variety of animals of all shapes and size, he shows the Pet Club the true meaning of friendship, acceptance, and inclusivity.
(best for ages 4 to 8)
The Body Who Wouldn't Share by Mike Reiss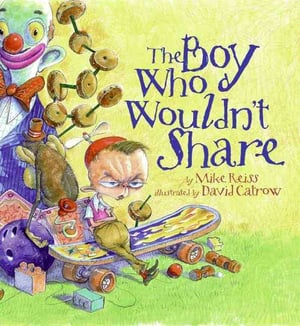 The Boy Who Wouldn't Share by Mike Reiss
Edward is a boy who has oodles of toys, but who also doesn't like to share! Especially with his little sister. "They're mine!" Edward shouts when she asks to play with his toy; that is, until Edward finds himself completely stuck under a large heaping pile of toys that have collapsed on top of him. With a little help from an unlikely ally, he learns that if he can share with others, they'll share right back with him.
Through this sharp story, children learn the ugliness and dangers of selfishness and the importance of sharing with others.
(best for ages 4 to 8)
Brick by Brick by Giuliano Ferri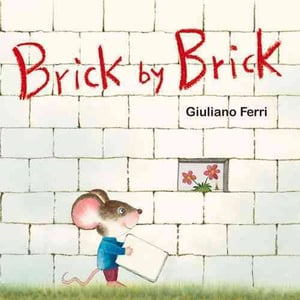 Brick by Brick by Giulliano Ferri
When a little mouse innocently plucks a flower from a wall, a brick comes looks leaving a hole he can see through. Soon the little mouse and his animal friends carefully to remove more and more bricks, until they eventually get through. Upon meeting animals from the other side of the wall, they begin to work together and use the bricks to build a bridge that join their islands. This clever and touching wordless board book teaches a hopeful message that shows walls can become bridges when everyone works together.
(best for ages 2 to 6)
Stick and Stone by Beth Ferry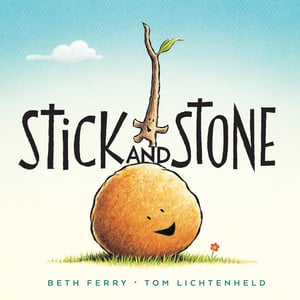 Stick and Stone by Beth Ferry
After stick rescues Stone from a rigid situation with a pine cone, Stick and Stone become immediate friends! The tables quickly turn when Stick finds himself stuck. Will stone be able to return the favour?
This fun rhyming book is an entertaining story of kindness and friendship, with subtle anti-bullying undertones even the youngest reader can understand.
(best for ages 3 to 5)
Have You Filled A Bucket Today? A Guide to Daily Happiness for Kids by Carol McCloud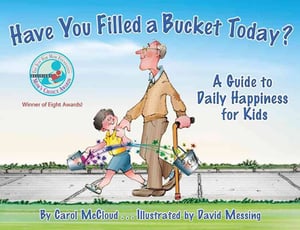 Have you Filled a Bucket Today by Carol McCloud
Through simple prose and vivid illustrations, children learn the importance and weight of kindness, appreciation and love. Bucket filling is a metaphor used to help children understand the effects of their actions and words towards other people and themselves. This heartwarming story is relatable and easy for children to understand, and can even double as a fun activity for you and your littles. Try using an actual bucket to mimic what is being taught in the book!
(best for ages 4 to 9)
The kindness lessons don't have to stop there, though. One way we love to help exercise kindness throughout the day is with one of these Kindness Planners!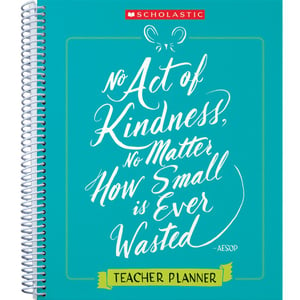 Scholar's Choice Kindness Planner
Build a culture of kindness in your classroom with fresh kindness activities to incorporate into your day-to-day.