March Break is around the corner and we're sure you're beginning the packing process for your family getaway! While travelling is fun for the whole family, sometimes it feels impossible to entertain our children on long trips. We often end up relying on screens as a quick and efficient way of keeping kids occupied, but there are better ways and we are here to help! Games and activities are great for engaging kids on trips in the car, on the plane, or in the hotel room.
Through play, children are provided opportunities to improve and develop skills such as critical thinking, visual comprehension and discrimination. Playing games with others creates opportunities for co-operative play, while building strong social and emotional skills.
Here are some of our top picks for games and activities to stop the never ending ask of "Are we there yet?" and eliminate the boredom blues in the airport!
An all-around office favourite, Spot It! is an opportunity to put your observational skills to the test. This game of lightning-fast choices is perfect for a group of two to eight players. It features fifty-five circular cards, with several unique, easily recognizable symbols. Every card has an exact matching symbol to each other card in the deck!
With five distinct mini-games, you can be sure that Spot It! will provide endless opportunities for discovery-based play. Children can direct their own play while creating new mini-games to add their own personal spin. Spot It! encourages children to engage in meaningful play through flexing their visual compression skills and engaging all their senses! The best part is this game comes in a small tin easy to throw in a purse or backpack to be pulled out wherever you are!

Bananagrams has often been affectionately dubbed the "travel scrabble". Inside the handy, travel sized, zippered banana pouch are 144 letter tiles. The tiles are placed in a 'bunch' in the middle of the table. Players then race to simultaneously create their own crosswords from the bunch. With multiple levels of difficulty and game types, kids are able to self-direct their own way to play. This game is fun for the whole family and gives children an opportunity to play while learning! Bananagrams is wonderful for developing beginner reading comprehension skills, word recognition, and spelling all while having fun!

Melissa and Doug Reusable Travel Games
Play and learn on the go with classic games from Melissa & Doug such as Hangman and Memory Game! These games feature a unique game board that allows children to turn pieces over as they advance the game. In Hangman, they reveal letters used to discover their mystery word! Memory Game they use visual memory skills to determine where they last saw a matching symbol. Best part? The pieces are attached to the board so there's no possibility of missing pieces! These games are fun and easy to take on the go, engaging your children with never-ending fun!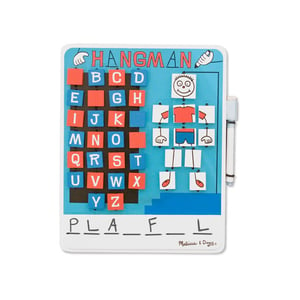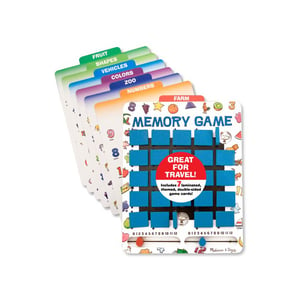 Get the cogs in your brain turning with Coggy! Coggy is a fun patterning game where players try to rearrange the cogs to match the 40 provided challenge cards. Challenge your visual-spatial skills while problem-solving with logic and critical thinking! It can be a brain teaser but it makes a wonderful resource for creative and brainy kids on the go. Coggy is perfect for car trips long and short or even by the pool! You can also encourage your children to create their own puzzles and challenges for themselves and others! How many can they create? Time to find out!
Imagine Ink Pictures books uses a mess free marker to reveal a rainbow of colors as you draw on the page! The best part is there are designs that suit children no matter what their interests may be. Designed to be used with the included Magic Ink Marker, the clear marker will not visibly mark other items. The Imagine Ink Pictures books are perfect for travel, holidays, or any day play!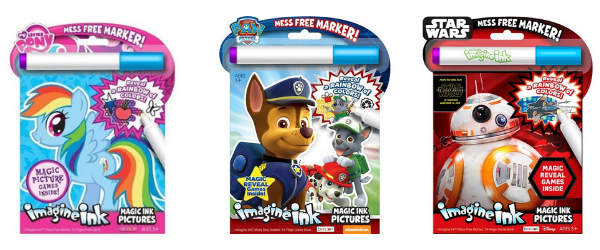 Imagine Ink Pads: My Little Pony, Paw Patrol, Star Wars
Need something for your little artist to keep them busy during long travel days? Search no further! Create countless amazing designs on the go with the classic Travel Spirograph! This portable Spirograph studio has a built-in design ring, work surface, and storage compartment for holding your wheels, pens, paper, design guide and finished artwork. Open a world of endless possibilities for any little designer your taking on a long trip!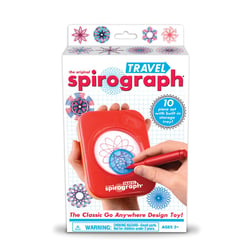 Kanoodle is two brain-twisters inside one pocket-sized case! Players are challenged to use combinations of connected beads to construct colourful designs in 2D puzzles and 3D pyramids. Players pick a design from the puzzle book and then try to recreate the design. Tease their brain while you travel, challenge your kid's spatial awareness and problem-solving skills. Have your kids try to create their own designs for you or their siblings to solve later! In a handy case that's perfect for travel, this tiny game can be easily stored in bags, suitcases or even small carry-ons! With 4 different difficulties, you're going to find the perfect challenge for any puzzle master.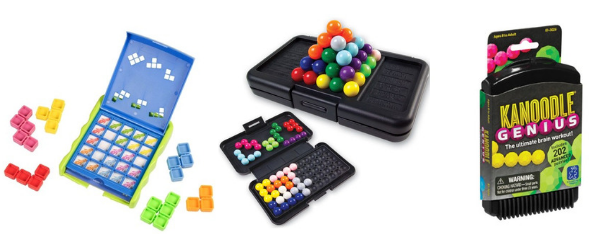 The Kanoodle series comes in a range of difficulties and include Kanoodle Jr, Kanoodle and Kanoodle Genius.
When we travel with children we need something convenient that will hold their attention for hours of creative engaging play! What better way to engage your children then with an absolute classic, a reusable sticker pad. Kids love stickers! They offer a creative outlet that allows children of any age to create fun, visually stimulating images regardless of drawing skills or ability. These reusable sticker pads by Melissa and Doug provide over 100 stickers for fun scenes like Dinosaurs and wild animals, home decorating, playing dress up and much more! These sticker pads are fun and easy to store in a bag and take out when needed. They open up endless possibilities for kids to create and explore their own worlds and designs.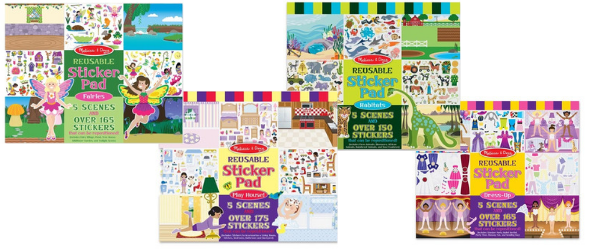 Last Mouse Lost is a fun elimination game where players try not to be the last mouse standing. Each player takes turns pressing down as many mice as they wish in a single row. Don't be the last one to press a mouse or you'll get eaten by the cat! Kids can play endlessly as they work on developing critical thinking and planning skills. Last Mouse Lost is also wonderful for being used as a tool to relieve travel-related anxiety in the children through rhythmic repetitive motions and fidgeting. Simple and fun, Last Mouse Lost is completely contained in the game board so no loose pieces to get lost while you're travelling!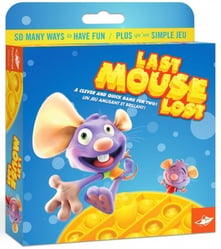 Long road trip ahead? Not a problem, Back Seat Bingo to the rescue! A spin on the classic game of I-Spy, Back Seat Bingo features cards with items you would commonly see on a long drive. Players look for these items and have to recognize and identify them on their bingo card as they go. This game helps children engage with their surroundings and develop visual spatial awareness through comprehension of what they have seen! Engaging and fun, your little travellers will be entertained all those long hours in the car!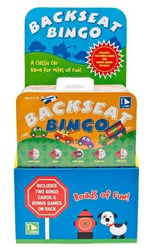 So, from all your friends here at Scholar's Choice, happy travels and happy March break!