Not only is playing games with your children a great way to spend quality family time together, they can also be essential in building valuable learning skills.
Games satisfy your child's competitive desires and the urge to master new skills and concepts, including:
number and shape recognition
grouping
counting
letter recognition and reading
visual perception and colour recognition
fine and gross motor skills
Don't forget: games don't need to be overtly educational or academic to be rich in learning opportunities. Just by virtue of playing with your children, board games can teach important social skills such as verbal communication, sharing, taking turns, patience, and cooperation. In addition, board games particularly help develop stronger attention spans by encouraging the completion of a game.
Here are some of our favourite new games that you and the kids will want to play again and again:
Players experience frantic fun in this race against the clock. Using eagle eyes and nimble fingers, spot and find matching playing pieces before your opponents. Differing difficulty levels makes this a great choice for all ages!
Don't be fooled, this game has a lot more going for it than the simple matching mechanics of Dominoes. You and the kids will become rulers of your kingdoms as you explore and claim lands as your own by matching tiles and placing pawns. Everyone builds their own Kingdom, so even though there is a "winner" it is fun to see what everyone has created at the end.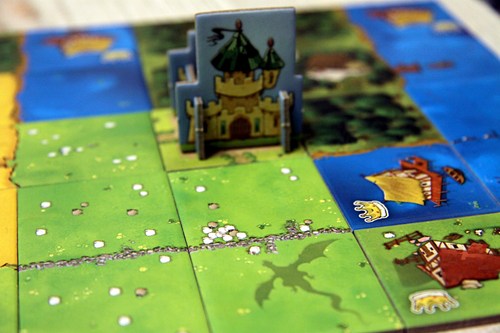 Make building memory skills a game! Compete to win by earning the most coins at your lemonade stand. Just draw a card, look at what kind of lemonade your customer wants to purchase, then re-create it from memory. Kids will love pretending they have their own business that earns them money.
Who doesn't love a game that kids can play by themselves? Based on the award-winning Kanoodle brain game series, Kanoodle Jr. offers on-the-go spatial-reasoning fun with simple-to-follow instructions and large puzzle pieces, perfect for little hands. This game gets harder as it goes, so can be played by kids of different ages while still remaining challenging.
It's the classic block-stacking, stack-crashing game of Tip Tower. How will you stack up against the law of gravity? Stack the wooden blocks in a sturdy tower, then take turns pulling out blocks one by one until the whole stack crashes down. Is your hand steady enough to pull out the last block before the tower collapses?
What are your favorite games to play with the kids? Let us know in the comments!