Birthday celebrations have a different look this year due to COVID-19. We all know of a child that has a birthday who may not be able to celebrate it in a "traditional" way, whether that be our own children or one of their friends. Make every birthday celebration special. Discover ways to make your child's birthday one they will never forget! There are many ways you can make sure your children and all of their friends still have a memorable day.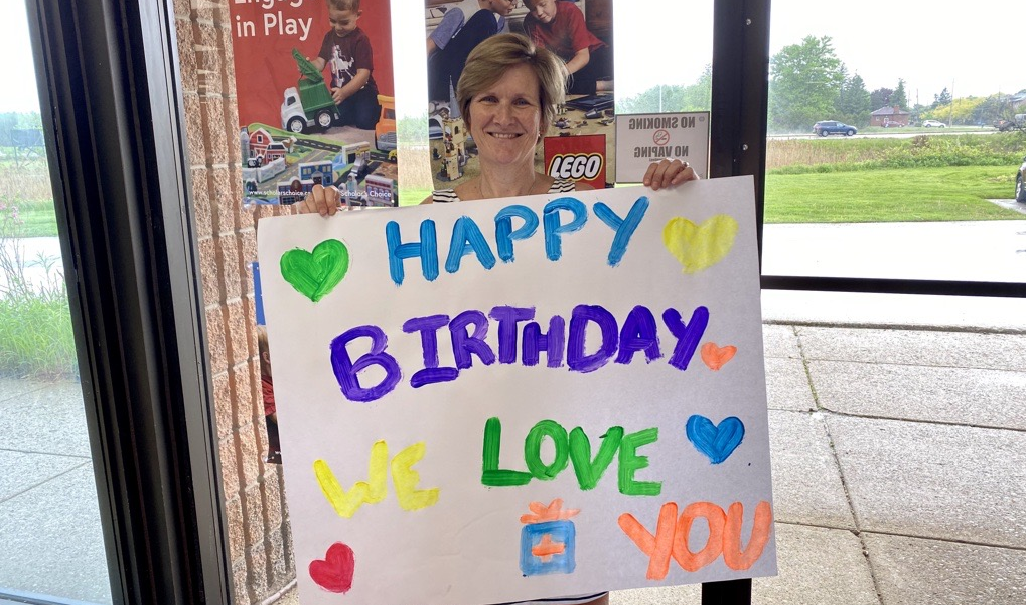 A Birthday Parade
Children can still see their friends and family at a safe distance with a birthday parade. Create homemade banners outside your house and get your children's friends to create banners to hold outside of their parked cars made from arts & crafts and paint displaying birthday wishes as they visit from a distance. Everyone can wave from their cars and celebrate safely.
Bake a cake!
No birthday is complete without cake! Baking a cake as a family not only teaches skills such as following instructions or math skills such as weight and measure but is also a great chance to have a bonding experience and promotes teamwork to reach a goal. It also gives children the feel of accomplishment and everyone gets cake!
If your child has friends close by, you can ask their parents to decorate their driveways or sidewalk with chalk in honour of the birthday boy or girl. The day of the birthday walk to their friend's driveways and let your child read the messages left for them (as long as it isn't raining). Everyone can get involved and have fun. Alternatively, inform the parents that their children can come around during the day and leave messages for your child to see. Be sure to keep a distance if you deice to do this. You're the birthday boy/girl will definitely feel the love!

Get a present delivered to your child or their friend's house
Children love presents! Who are we kidding, everyone loves presents! Part of the fun of birthdays is the joy of opening gifts from all your friends and family and playing with everything! Social distancing doesn't mean that your child or their friends cannot get all the presents they want. Scholar's Choice offers a contactless curbside pickup service where you can get all your gifts direct from outside of our store and we will even wrap them for FREE. Alternatively, if you wish to send a gift to one of your child's friends for their birthday, you can use our website and get free shipping over $25. Let your children's friends know your child is thinking of them with the choice of thousands of great games, puzzles, toys and much more.


Finding the right gift
We understand how important it is to find the perfect gift for your loved ones. Contact a Scholar's Choice Expert to take the guess work out of gift buying.
Click Here to receive a special birthday offer!

Make your own crafts and decorate your house
Just because children can't have their friends over to celebrate, does not mean you can't decorate your house and help make their day as festive as possible. Design crafts and put up decorations around the house so that the environment they are in during their birthday makes them excited and reminds them that their day is special.
Zoom celebration
One of the main things that children love about birthdays is getting to celebrate the day with their friends. During the COVID-19 age this shouldn't be any different. Speak to the parents of all the children you were going to invite about all attending a zoom session (or virtual party) at a certain time and allow all the children to speak to each other for some time throughout the day.
A scavenger hunt is a great educational and fun experience for a child's birthday, it allows children to have a hands-on approach to learning. Scavenger hunts encourage basic skills that every individual needs to be successful, such as critical thinking, communication, collaboration, and creativity. Design a scavenger hunt to allow your child to put these skills together to find small prizes or their main birthday gifts hidden throughout your property.
Family party
Your child can have just as much fun with their family as they can with their friends. Family games or collaborative games allow children to have the fun of the party in their homes. It is also a great opportunity for children to learn and develop. But don't forget, let the birthday boy or girl win a few times!
Themed day
There's no question that a good theme can take a party from good to great. It allows all the people in your house to dress up, decorate the house in line with the theme and have even more fun. The whole day can be built around the them including games, food and gifts. Think about all the fun creative ideas you and your child could have thinking and setting up a themed party.
Just because your child cannot have a "traditional" party does not mean they cannot have a great day. Remember:
Ask your child how they want to celebrate, what they enjoy and how they feel it could be a great day
Get everything your child wants, whether that is decorations or presents
Inform your family and friends of your plans if they don't know what is going on they can't get involved
Give your child the chance to socialize both with their friends and their family
Have fun, and make sure your child still has the best birthday
Follow these steps and your child will have a birthday to remember!