At Scholar's Choice, we utilize an innovative and inspiring approach to children's learning; we call this the Playful Learning Approach (PLA). The PLA has 5 main principles, one of these key principles is collaborative play. Collaborative play teaches children to solve problems by working together, whether it may be with other children or adults, to reach a common goal. Puzzles are a great educational tool to promote collaborative play.
Puzzles can teach children many skills including math and language skills. It can teach them about sizes, colours, shapes, and how to match. Puzzles also teach children essential social skills, such as how to be kind and work well with others. Having children work together on a puzzle encourages them to talk to one another, promoting communication. It encourages them to share and take turns, promoting kindness and positive social interactions. Puzzles can even allow for the understanding of negative emotions, such as frustration and failure. It is important that children receive praise and positive reinforcement during puzzle play, as feelings of accomplishment are so important during a child's development.
Completing a puzzle can also help develop a child's fine motor skills. Activities that develop fine motor skills are especially important at a young age but can be exceptionally refined up until the ages of 5-7. The pincher grasp, an action commonly used while completing a puzzle, is important when children learn to write. Children who start to write by hand at a younger age have shown to have a greater imagination than children who do not possess this skill.
The right puzzle for your child's age
Understanding the benefits of puzzles, you may be asking yourself, what is the right puzzle for my child's age?
Toddlers
Toddlers will enjoy large piece wooden puzzles, which may contain numbers or words. Having an interactive aspect allows children to learn math or language skills as they play. Adding a sensory element such as sound presents an extra dimension to keep children engaged. Incorporating as many senses as possible is important to promote development as described through the PLA.
Jumbo ABC Uppercase Chunky Puzzle by Melissa & Doug
Shapes Chunky Wood Puzzle by Melissa & Doug
Children aged 3-5 (Preschool)
Children at pre-school age should be given puzzles of up to 12 pieces, or large floor puzzles that are themed such as animals or vehicles. Doing this gives an extra element of learning such as association and pairing. This will keep children of this age engaged and encourage language as they play by associating an image to a word.
Farm Sound Puzzle by Melissa & Doug
Baby Shark Chunky Wood Sound Puzzle
Suuuper Size Puzzle Animal Match by Banana Panda
Children aged 4-6 (Preschool)
As children hit the ages of 4-6, start to encourage them to complete puzzles of up to 48 pieces or larger floor puzzles. At this age children will still be developing fine motor, cognitive and social skills, assistance from a caregiver or family member should be available if the child needs or requests it. Make sure the child is given plenty of opportunities to problem solve by themselves before offering assistance.

Day at the Museum Zoo 48 piece Puzzle by Crocodile Creek
Ravensburger Toy Story 4 In It Together 3x49 piece Puzzle
Ravensburger Frozen 2 2x24 piece Puzzle
Children of School Age
Puzzles with more pieces will interest children as they hit school age. The challenge of completing more complex puzzles will keep children engaged and will help develop memory, retention and further their problem-solving skills. If children begin to master these puzzles, add some difficulty by getting them to complete a 3D puzzle.
World Cities 200 piece Puzzle & Poster by Crocodile Creek
Ravensburger Shaped Mickey 945 piece Puzzle
Ravensburger Zebra Challenge 500 piece Challenge Series Puzzle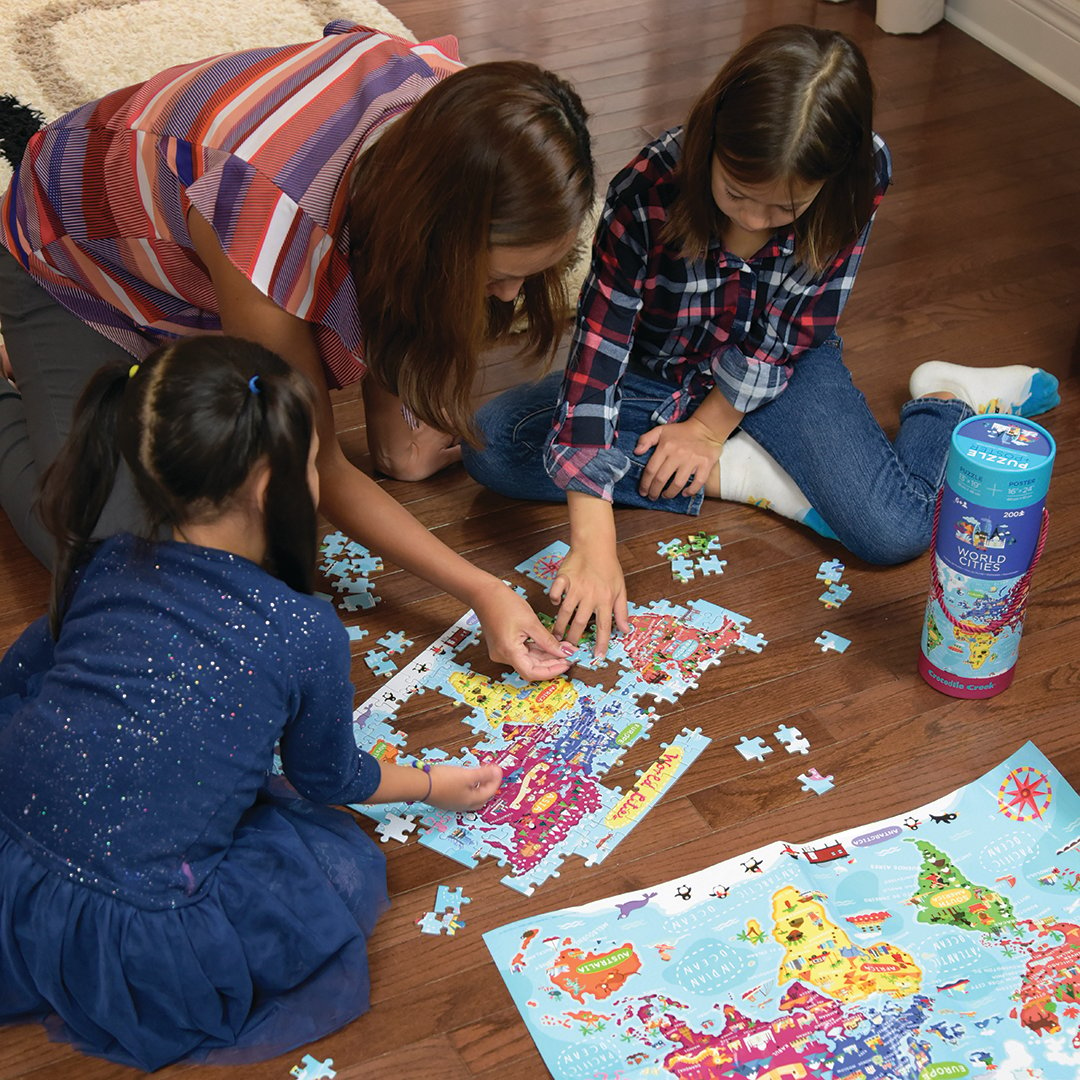 Puzzles for Adults
Puzzles are not just for children. A study by Ipos showed that 48% of adults enjoyed puzzling at least once a year. Collaborative puzzling as a family can encourage teamwork, collaborative play, and kindness. Puzzle time also allows families to interact and bond with one another as they work as a team.
Once a puzzle is completed, there are many things that can be done; Break up the puzzle, complete the puzzle again but time yourself and try to beat your previous record, get a new puzzle that could be harder or have more pieces, or preserve the puzzle and frame it with puzzle glue.
Ravensburger Star Wars Challenge 1000 piece Puzzle
Ravensburger Aladdin 1000 piece Puzzle
Ravensburger Winter Moose 1000 piece
How puzzles can help with cognitive impairment
Longitudinal studies on cognitively challenging activities such as Puzzles have shown that; senior citizens that actively engage in puzzle play have a delayed cognitive disease onset against people who do not cognitively challenge their brains on a regular basis, showing puzzles are for ALL AGES.
Begin your child's puzzle experiences by visiting your local SC Store. Each store has a puzzle table where children and parents can complete a puzzle in-store, doing this will help get children initially engaged and will help with their learning. Scholar's Choice offers a large range of different puzzles for all ages, there is a puzzle for everyone. Scholar's Choice staff will always be on hand to make sure you and your children get the right puzzle. It is never too early (or too late) to start building puzzles.