As a parent, you have probably witnessed your young one donning a cape and flying around the room like Superman, or throwing on a hat and pretending to go to work with the rest of the firefighters. Did you know that this type of imaginative play is both fun for them, and important for their growth and development?
Dramatic play is described as play where children assign roles to themselves and others, then act them out for fun. It is a type of learning that kids naturally initiate themselves, but knowing a bit more about it can help you to foster this independent growth. Examples of dramatic play kids often invent for themselves include:
Imitating jobs they see their parents doing like cooking dinner, sweeping the floor, or changing a baby's diaper.
Imagining themselves as their favorite book or movie characters, like Elsa from Frozen, or the Paw Patrol rescue gang.
Creating new imaginative worlds for themselves, like hiking through the jungle or sailing on a ship in the ocean.
Dramatic play teaches your child many important skills, even if they don't know they are actually learning.
Here are a few of the things your child is teaching themselves while they play:
Your child may not think they like following rules, but when they create an imaginary world, they often create their own set of rules to make their play feel real. Perhaps your child only talks in a soft voice when diapering their doll, or can't touch the carpet when they are swinging from the vines like Tarzan. These rules teach them to work with other children, follow direction, and self-regulate.
If your child wants to articulate their space station location to other kids, they need to find the language to do so. In creating these worlds, they will rely on information they have seen and heard, but find new and exciting contexts to express their ideas.
Your child can be anyone they want in their world, and can imagine any future for themselves. Most children can remember going to the Doctor at one point in their lives, now they can be the doctor themselves. They can be the teacher at the front of the classroom, or the chef on TV, cooking for millions. Dramatic play creates a safe space for kids to dream big and experience their dreams.
Tips on how to help your child choose dramatic play for themselves:
1. Create a tickle trunk filled with costumes, as well as hats, coats, and items from around the house.
Melissa & Doug costumes are built to last and come with so many details and accessories!
2. Create a mini kitchen, veterinary office, or workshop zone.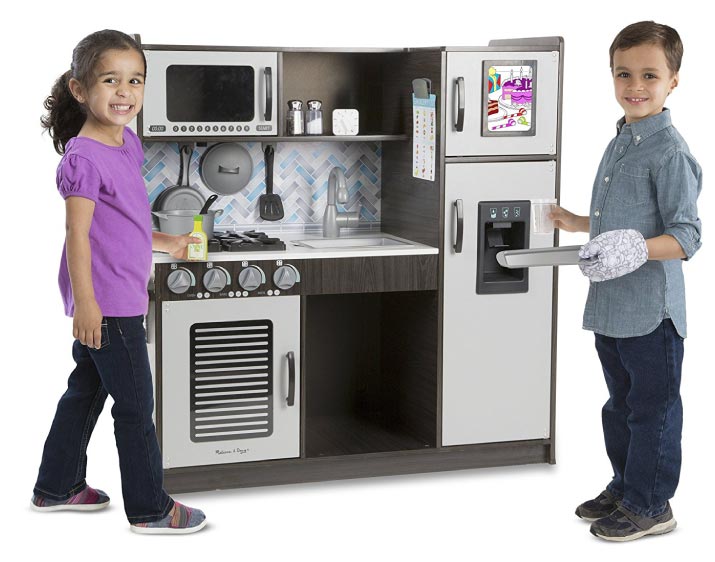 Kids love playing in this realistic kitchen. Find details here.
3. Read your children books that depict varied jobs and experiences. Ask them questions about the new things they have learned, and encourage experimentation with new roles and settings.
4. Provide the supplies and freedom for children to create their own unique settings. Bed sheets can become ship sails, and pillows can form a bear's den. Let children make a bit of a mess and you will be astounded what their imaginations can come up with!
What kind of things do you do to encourage dramatic play? Let us know in the comments!