Does your classroom need an upgrade, but the task seems a bit overwhelming? Scholar's Choice is here to help with 5 easy tips on how to turn your drab room into a fab room.
1. Declutter and Organize
We all know that as the year progresses, a classroom fills with more and more stuff. Declutter and beautify your room by organizing your supplies. Scholar's Choice has endless options for organizing your room: from big furniture to create a gorgeous classroom library to adorable polka dot boxes to keep your markers in a tidy place, we have you covered.
2. Restyle and modernize your big boring items to your own taste
Do you feel like your old desk and filing cabinet are preventing your room from becoming the design oasis that you know it can be? Then give them an uplift! A big metal desk can be hidden under a bright piece of fabric or table cloth. Adhere it with some double-sided tape and you are good to go! Do you have an old metal filing cabinet? It's brown, isn't it? Cover it with a removable contact paper to give it a quick update that will bring it into the 21st century. You will be shocked by how fresh your room will look by just updating these big items.
3. Is your room comfortable? Is it flexible?
We all know that it is hard for kids of any age to sit in a desk all day, so make sure your classroom has variety in the types of places kids can learn. You can enhance your quiet corner with a reading cube, a bean bag chair, or a cozy "Woodland Terrace" for comfy independent reading time. Try to keep these spaces moveable and flexible – who knows what you will need next year (or next week!)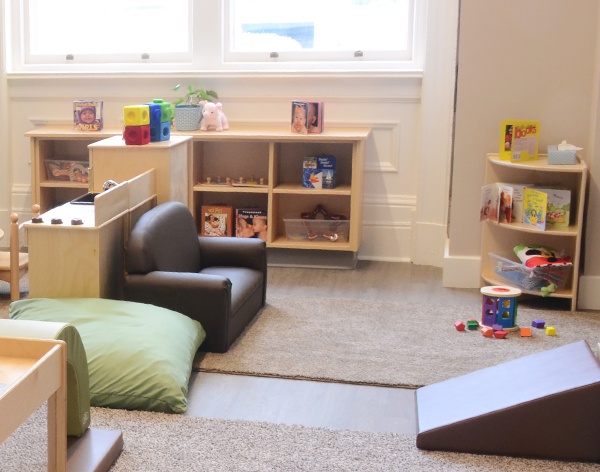 4. Simplify
Do you have decoratives scattered around the room highlighting different subjects and activities? Are they a mishmash of fonts and styles? It isn't bad to have many kinds of decoratives around the classroom, but many different fonts and styles can be overwhelming to the brain. Consider trimming your decoratives down to one style at a time, you will be amazed how much cleaner and organized the room will look.
5. Listen to your students!
It is so important for students to feel comfortable in their classroom, simply asking them helps transform the environment from one that is teacher-centric, to one that's student-centric. Ask them what they think would help them learn and you may be surprised at what kind of great ideas they come up with!
Want to win a $250 Classroom Makeover? Click here for a chance to win our yearly giveaway!